The UNA Series (hollow fiber filtration) modules are designed for reverse osmosis (RO) pretreatment applications. Aria
SM
systems incorporating UNA modules can replace conventional upstream operations such as flocculation, settling and granular media filtration. The modules provide consistent high-quality effluent, independent of incoming raw water quality without the use of coagulating chemicals, typically achieving a SDI of < 2 - 3 and a turbidity of < 0.08 NTU. These robust Aria systems have a comparatively small footprint, are modular in design, and are fully automated. They may be easily incorporated into the existing DI water infrastructure.
Microza* UNA Module Features
Hollow fiber construction with 0.1 μm rated membrane for removal of particles, bacteria, colloidal silica and for reduction of turbidity.
PVDF membrane resistant to oxidizing agents.
Filtration from outside fiber to inside of fiber:

Large surface area per module for excellent throughput, resulting in compact systems, and exceptional tolerance for high contaminant levels.
Removal of foulants by unique and periodic air-scouring combined with permeate back flushing.
Minimum prefiltration required (e.g., 400 μm self-cleaning strainers for removal of tramp solids).

Low operating costs

By providing high quality RO prefiltration, the time between RO membrane cleaning is greatly extended. This results in reduced downtime and chemical/disposal costs.
High water recovery rates (typically up to 95%-98%) minimize cost per volume of water produced.
*Microza is a trademark of Asahi Kasei Corporation.
Microza UNA module systems are designed to optimize the performance and extend the life of RO membranes.
Operating Parameters
Performance2

Process Capacity Typical Range: 2.2-6.8 m3/h / 10-30 gpm

Dimensions

Membrane Area: 50 m2 / 538 ft2
Module Length: 2160 mm / 85 in.
Module Diameter: 165 mm / 6.5 in.

Operating Conditions

Maximum Operating Temperature: 40 °C / 104 °F
Maximum Transmembrane Pressure: 3 bar / 45 psi
Maximum Inlet Pressure: 3 bar / 45 psi
pH Range: 1-10

Materials

Membrane: PVDF
Housing: ABS
Potting Material: Polyurethane
Gaskets: Silicone
Preservative: 40% calcium chloride
2 Please contact Pall Corporation for operating manual and system sizing, as capacity per module is dependent on feed water quality, temperature and other factors.
Dimensions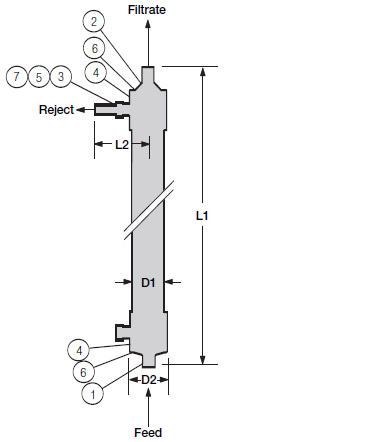 Module
Module
Part Number
Length (L1)
mm / in.
Length (L2)
mm / in.
Diameter (D1)
mm / in.
Diameter (D2)
mm / in.
UNA-620A
2364 / 93
272 / 10.7
165 / 6.5
221 / 8.7
Accessories and Spare Parts
Item
1
Adapter
Feed
Connection
2
Adapter
Permeate
Connection
3
Adapter
Reject
Connection
4
Cap Nut
Feed &
Permeate
Connections
5
Nut
Reject
Connection
6
O-ring for
Feed &
Permeate
Adapter
7
Gasket
Reject
Connection
Material
304 SS
PVC
PVC
AS (20% GF)
PVC
Silicone
Silicone
Note: The information provided in this literature was reviewed for accuracy at the time of publication. Product specifications may be subject to change without notice. For current information, consult your local Pall distributor or contact Pall Microelectronics directly.
Unit conversion:
1 bar = 100 kilopascals