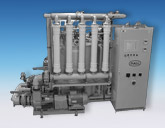 Need Help?

More Information

Description
Pall Microza1 Membrane Filtration Systems remove and concentrate all suspended solids from wastewater derived from silicon backgrinding (BG) and dicing (SD) operations.

Since only ultrapure water (sparged with C02) is typically used during backgrinding or dicing, the clear UF permeate can be readily reused as water feed.

The retained solids may be transferred to an existing sludge treatment system or to a dedicated system for final dewatering.

Pall can also provide fully automated turnkey installations, including recycle systems for producing SG process water from the permeate.

1 Microza is a trademark of Asahi Kasei Corporation
Applications
Microza UNA module systems are designed to optimize the performance and extend the life of RO membranes.
Specifications
Technical Data
Design Influent: Silicon backgrinding and/or dicing wastewater (BG and SD)
Design TSS: Typically 500 mg/L (ppm) for BG; 50 mg/L for SD
Operation Mode: Typically continuously fed batch
Automation: Full automation via PLC and touch panel HMI
Footprint (for standard 9 m3/h / 40 gpm): 2 m x 4 m (w/o buffer tank)
Performance Data
Permeate Recovery: 95% - 99.8% of wastewater depending on operation mode and TSS in feed
Permeate Turbidity: < 0.2 NTU
Uptime: > 99%2
Module Lifetime: > 1.5 years
Cleaning frequency: < 2/year
Operator Labor: < 15 min/day
Chemical Dosage: none3
2 Uptime = (Volume of treated wastewater)/(Volume of available wastewater) x 100%
Not including chemical cleaning.
3 Except for occasional chemical cleaning.
Additional Information
Options
Recommended Options to Base System
Buffer Tank System: Provides holding capacity for changing feed flow rates and optimizes systems uptime. Typically 2+ hours holding capacity above volume required for normal processing
Transfer Pump Systems: For transfer of wastewater from buffer tank to UF system, for draining and transferring concentrated solids to holding tank and for transfer and distribution of clarified water.
Additions
Redundant membrane modules.
N+1 Redundant Pumps: Add redundancy to wastewater transfer, recirculation, reverse filtration and concentrate pumps
CIP Tank System: Enables preparation of cleaning solution without interrupting wastewater treatment.
Chemical Dosing Stations: For automatic addition of chemicals for cleaning
Concentrate Post Treatment: System for storage, destabilization and final dewatering of concentrated wastewater for solids disposal
Permeate Post Treatment: System for processing of UF permeate to desired quality: e.g., by reverse osmosis or electrodeionization
Service Contract: Routine on-site maintenance and remote monitoring to ensure optimized performance
Remote control / Data transfer
Flow Schematic For Pall Microza Silicon Backgrinding/ Dicing Base System With Buffer Tank and Transfer Pump Option