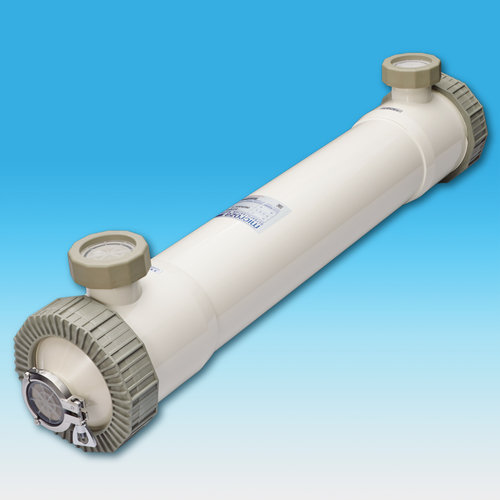 Need Help?

More Information

Description
The Microza1 OAT ultrafiltration (UF) modules feature the latest high flow hollow fiber technology using a newly developed asymmetric support structure and a dual skin cut off layer on both the inside and outside of the fiber.
Dual rated at 2 nm by Pall's gold nanoparticle challenge test and 4 kD molecular weight cut off
Diffusion driven contamination control avoids accumulation on membrane
20 nm particle rinse up control
Low metal extractables by pre elution using new hot water rinsing process
Up to 12 months on shelf life ex works due to hot water sanitization2
Shipped water wet
100% integrity tested and documented
High temperature and pressure modules available
Application
The Microza OAT modules are used in today´s most demanding ultra high purity water systems. The outer module dimensions and connections are compatible with Microza OLT 6036 series. Therefore they are also suitable for upgrades of existing installations.
Specifications
Feed Specifications
Particle Size
Maximum number of
particles /ml effluent pre-filter
≥ 0.1 μm
100
≥ 0.2 μm
20
Typical Operation Scheme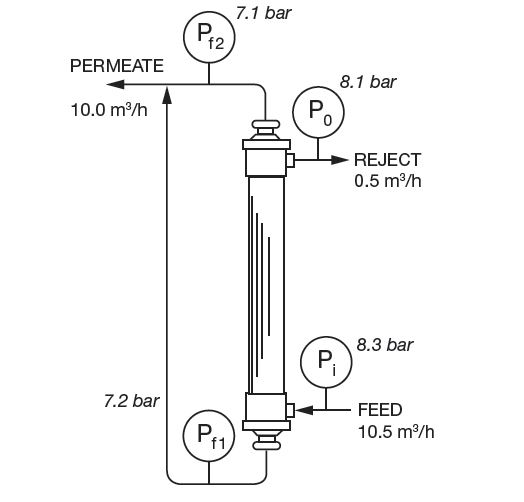 Typical Installation Scheme

1Microza is a trademark of Asahi Kasei Corporation
2Recommended storage conditions: no direct sunlight, packaging unopened, ambient temperature (max 25°C), do not freeze
Type
TFF Cassettes and Modules
Additional Information
Spare Parts
Description

Material
Module Spare Part Numbers9
OAT-6036HA, VA, SA
Attached to module
Union Socket Feed / Reject

Union Socket Reject, metric DN15
Union Socket Feed, metric DN50
Union Socket Permeate, metric DN40
PVDF
AUME-OT60H-31
0450602
OT60K15
OT60F50
OT60P40
Cap Nut
GF reinforced PPE
AUME-OT60H-13b
0450600
✓
Cap Nut
Retainer Ring
GF reinforced PPE
AUME-OT60H-13a
0450601
Permeate Gasket
Fluropolymer
elastomer
AUME-OT60H-17
0150612
✓
Feed/Reject Gasket

Clamp
Fluropolymer
elastomer
SUS304
AUME-OT60H-14
0150611
AUME-OT60H-16
0150613
✓
✓
Dummy
Polysulfone

PVC
AUME-OT60H-30
0450608
AUME-OT60H-30X
0450609
Please consult manual for installation instructions. Installation kits available on request.
Dimensions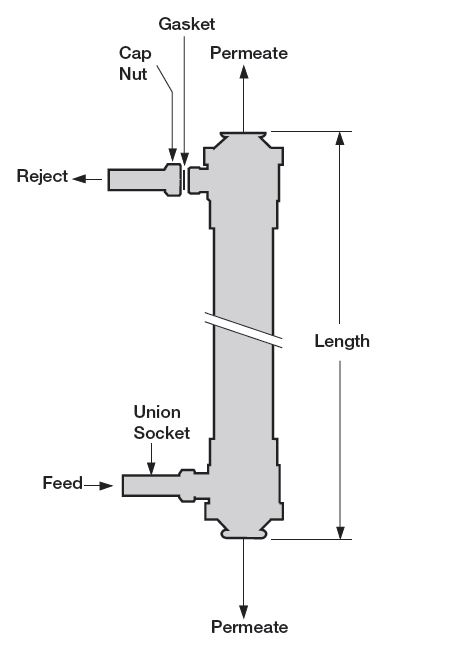 Connections
Feed /Reject:
PVDF union sockets for these ports are available
for thermal fusion to PVDF piping.
Permeate:
Connections are 2 1/2 in. 3 piece clamp.
7 High temperature only for short term sanitization
8 At 30°C / 86°F at max 10 m3/h or 44 gpm
9 Spare parts can be ordered by either part number.
Ordering Information
Operating Parameters and Dimensions
Part Number
OAT-6036HAW
OAT-6036VAW
OAT-6036SAW
Performance
Molecular weight cut-off (nominal)
daltons
4,000
4,000
4,000
Particle rating
nm
2
2
2
Clean permeate flow3
m3/ h
10
10
10
gpm
44
44
44
Dimensions
Fiber inner/outer diameter
mm
0.6 / 1.0
0.6 / 1.0
0.6 / 1.0
Membrane area
m2
34
34
34
ft2
366
366
366
Module length
mm
1,177
1,177
1,177
in.
46.3
46.3
46.3
Module diameter4
mm
172
179
172
in.
6.8
7.1
6.8
Weight
kg
32
34
33
lb
71
75
73
Operating Conditions5
Maximum inlet pressure
MPa
0.9
0.9
1.2
(3 0°C / 86°F)
psi
130
130
174
Maximum transmembrane pressure
MPa
0.3
0.3
0.3
(30°C / 86°F at max 10m3/h or 44 gpm)
psi
45
45
45
Maximum operating temperature
°C
30
80
30
°F
104
176
104
Maximum sanitizing temperature
°C
90
90
90
°F
194
194
194
Materials
Membrane
Polysulfone
Housing
Polysulfone; V and S grades have outer fiberglass reinforcement
End caps
Polyphenylsulfone
Collar nuts6
Fiberglass reinforced polyphenylene ether
Cap nuts6
Fiberglass reinforced polyphenylene ether
Potting material
Epoxy resin
Gasket
Fluoropolymer elastomer
Filling
Ultrapure water
3 Initial clean water permeate flow at 25°C / 77°F and 0.1 MPa /14.5 psi average transmembrane pressure.
Please consult manual for general operating guidelines.
4 Nominal shell diameter excluding headers and permeate ports. Note the diameter of the dummy module used for fit-up is 172 mm / 6.8 in.
5 Pressure must be reduced at higher temperatures. See tables on following pages.
6 Non-wetted parts
Operating Pressure vs Water Temperature
The allowable operating pressure will vary with water temperature. See tables below.
Part Number: OAT-6036HAW
UF Feed Temperature
°C / °F
Maximum
Transmembrane Pressure8
Maximum
Feed Pressure
Maximum
Permeate Pressure
0-30 / 32-86
0.3 MPa / 45 psi
0.9 MPa / 130 psi
0.9 MPa / 130 psi
80-90 / 176-1947
0.1 MPa / 15 psi
0.35 MPa / 50 psi
0.35 MPa / 50 psi
Part Number: OAT-6036VAW
UF Feed Temperature
°C / °F
Maximum
Transmembrane Pressure8
Maximum
Feed Pressure
Maximum
Permeate Pressure
0-70 / 32-158
0.2 MPa / 30 psi
0.9 MPa / 130 psi
0.9 MPa / 130 psi
70-80 / 158-176
0.1 MPa / 15 psi
0.8 MPa / 116 psi
0.8 MPa / 116 psi
80-90 / 176-1947
0.1 MPa / 15 psi
0.5 MPa / 73 psi
0.5 MPa / 73 psi
Part Number: OAT-6036SAW
UF Feed Temperature
°C / °F
Maximum
Transmembrane Pressure8
Maximum
Feed Pressure
Maximum
Permeate Pressure
0-30 / 32-86
0.3 MPa / 45 psi
1.2 MPa / 174 psi
1.2 MPa / 174 psi
80-90 / 176-1947
0.1 MPa / 15 psi
0.5 MPa / 73 psi
0.5 MPa / 73 psi