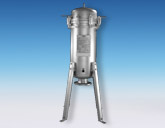 Need Help?

More Information

Description
The Pall multistack high performance 316L stainless steel P-series housing can be designed and manufactured in accordance with A.D. Merkblatter or ASME Code. Pall's experience in housing manufacturing and filtration technology offers the user many benefits: crevice-free construction, easy-to-use closures, quick cartridge change, and 145 psi / 10 bar gauge working pressure at temperatures up to 365 ºF / 185 ºC. These housings are designed and manufactured by Pall to quality standards which are approved to ISO 9001 (BS 5750 part 1).
Ideal for DI Water filtration
Large vent connection for rapid venting
All fluid contact surfaces manufactured from 316L stainless steel
Glass beaded and passivated surface finish provides maximum resistance to corrosion and good cosmetic appearance
Quick cartridge changeout
Hydrodynamically designed inlet and outlet connections ensure excellent flow characteristics
Large drain located upstream to minimize fluid hold-up volume
Specifications
Materials of Construction
Shell, Head, and Tubesheet: 316L stainless steel
Rathmann Clamps: Veralit nickel plated carbon steel
Clamp Mounting Ring: 304 stainless steel
Legs: 304 stainless steel
Foot Pads: 304 stainless steel
Configurations
Inlet/Outlet Connections: 80-200 mm BS4504 T16 flange, 2-8 in. ANSI flange options
Vent/Drain: 1/2 in. BSPT male, 1/2 in. NPT
Cartridge Adapter: Code 3, 7, or 8
Operating Conditions
145 psi @ 302 °F / 10 bar @ 150 °C for EPR gaskets
145 psi @ 365 °F / 10 bar @ 185 °C for Viton1 gaskets
Cartridge Capacity
5-around
12-around
31-around
Cartridge Lengths Accepted
20 in. / 508 mm, 40 in. / 1016 mm
Cartridge Configurations Accepted
Code 3 - two 222 O-rings, flat end cap
Code 7 - two 226 O-rings, locator fin, bayonette lock
Code 8 - two 222 O-rings, locator fin
Design Options
A.D. Merkblatter
ASME Code U Stamp
Electropolishing available
Connections Available
2 in., 3 in., 4 in., 6 in., and 8 in. ANSI flange
80 mm, 100 mm, 200 mm BS4504 T16 flange
1 Viton is a trademark of DuPont Dow Elastomers.
Other options available - please contact Pall Microelectronics for details and ordering information.
Performance
Pressure Drop vs. Liquid Flow Rate2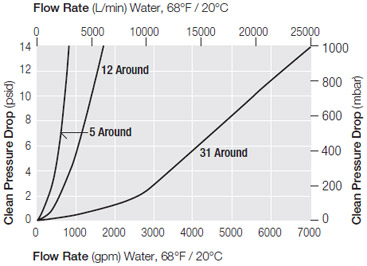 2 The liquid flow/pressure drop characteristics refer to the empty housing only for water at 20ºC / 68°F. For other liquids, multiply pressure drop by the specific gravity.
Unit conversion:
1 bar = 100 kilopascals
Additional Information
Housing Drawing