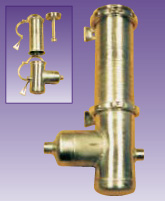 Need Help?

More Information

Description
Improve the Performance
of Fluid Sampling Systems
'Pall' small flow 'AquaSep' Plus & 'PhaseSep' L/L Coalescers, in conjunction with the use of a
Pall
pre-filter, have been specifically designed to improve the condition and efficiency of sampling systems and small scale pilot plants within refineries and chemical plants. Ideal for applications with flows up to 20 lpm/ 5.25 USgpm
Sampling Systems
Most sampling systems have a number of functions, i.e. withdraw sample from the process, transport the sample, clarify the fluid, pass it to some form of analyser and dispose of the fluid. In some cases the system is a miniature of the main process stream, and so poses the same reliability and operating requirements. The sampling system should generally operate for longer periods of time without operating problems.
Small Scale Pilot Plants
In order to test the process it is important that these pilot plants have the same protection as the full scale plant. Therefore, removal of contamination is as important here as in the full size systems
Liquid Conditioning
This may involve the removal of oils, water and other process contaminants such as, scale, corrosion deposits and deposits due to chemical reactions found in the main process stream
Features
Advantages
Benefits
Pall's specially formulated media contains no glass fibre.
Does not disarm in the presence of surfactants
Will continue to coalesce in the presence of fuel additives and give longer service life and efficiency than conventional coalescers
Separates fluids with IFT's as low as 0.5 dynes/cm
Single unit could be utilised for a variety of applications
Cost effective solutions not previously available
Utilises standard parts and can be changed from vertical to horizontal unit
Spares are readily available
Reduces cost of inventory
Easy cartridge change-out with no special tools
Lowers exposure time for operators and no special training is required
Reduces maintenance and training costs, and the likelihood of operator error