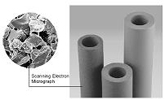 Need Help?

More Information

Description
Pall Schumalith filter elements are manufactured from a porous, ceramically bonded silicon carbide filter media that has a high mechanical strength.
This ceramic filter material is distinguished by its excellent thermal resistance as well as thermal shock resistance. For this reason Schumalith filter elements are well suited for the filtration of hot fluids with fast temperature changes. The high performing Schumalith filter elements are mainly used for high temperature applications.
General Information
Machining is possible using diamond tools.
Elements can be glued using commerical or special ceramic glues.
Careful consideration should be taken regarding operating temperature and chemical resistance.