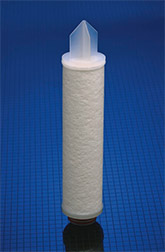 Need Help?

More Information

Description
Proprietary CoLD Melt™ fiber technology
Continuous gradient pore structure media provides both prefiltration and final filtration
Proprietary center core for greater mechanical strength and chemical resistance (0.5 - 10 !m)
Resists contaminant unloading even at high differential pressures
Computer controlled CoLD Melt manufacturing process increases product consistency
Polypropylene media construction
Thermally bonded structure - not employing adhesives
Plastic and metal spring assembly end configurations are available
For detailed information about this product, please refer to the data sheet. (To download this data sheet, select Download PDF from the menu above.)
Products in this datasheet may be covered by one or more patents, including EP 830,191; US 5,591,335; US 5,653,833; US 5,681,469; US 5,690,782; US 5,730,820; US 5,733,581; US 5,741,395; US 5,783,011.