The most extensively used backflushable pleated filter in power plant condensate.
Backflushable pleated filter designed specifically for use in power plants
The Hydro-Guard K is used in condensate with or without resin precoat
Constructed with the highest purity materials (no fillers, talcs, TiO2 or surfactants) for minimal rinse-up time
Surface area exceeds that of conventional condensate filters by a 20:1 ratio for lower pressure drops, increased filter life and longer backflush cycles
Eliminates costs associated with use and disposal of powdered resins
Iron oxide and suspended copper are typically reduced by 98%+
Absolute construction and surface retention for efficient backflushing and particle removal
Filter Media:
Polyaramid
Support Material:
Polyester
Hardware:
Stainless Steel
Sealing:
Epoxy Resin
Gasket/O-ring Materials:
EPDM (standard),
Others available
 
Pressure Drop/Flow Data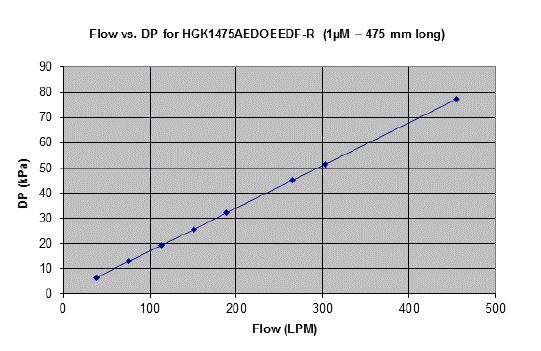 HGK - ■ - ● - A - E - DOE - EDF - R
(e.g. HGK–1–725–A–E–DOE-EDF-R)
 
Code
Filter Grades*
1
1 μm
5
5 μm
 
*Based on typical application usage.
For details, contact Pall Corporation.
 
Code  
Cartridge Lengths
(nominal)
475
19" (47.5 cm)
725
28.5" (72.5 cm)
 
 
Code
Gasket/O-ring
Materials
E
EPDM
 
 
Code                   
End Configurations
DOE
DOE with elastomer
gasket seal and endcaps
EDF
Manufactured to EDF specifications
R
Pre-rinsed in hot DI water to reduce rinse up time