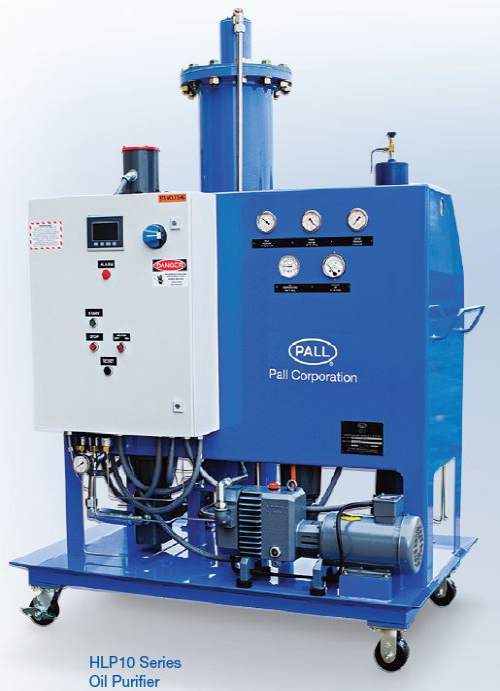 Need Help?

More Information

Description
Water in hydraulic, lubrication, heat transfer and insulating fluids adversely affects fluid performance and is a threat to system reliability.
The HLP Series of purifiers combine the water removal performance of mass transfer technology with high reliability and ease-of-use to help ensure maximum equipment uptime and lowest cost of ownership — enabling you to focus on your process, and not the equipment.
The Pall HLP10 fluid conditioning purifier uses vacuum dehydration to remove 100% free water and over 90% of dissolved water. Unlike other methods it will not burn or otherwise alter the properties of the oil. It will also remove 100% of free and entrained gases and up to 80% dissolved air along with solid particulate contamination with an efficiency of 99.95% (Beta ≥ 2000) down to 3 microns.
Maximum Reliability, Lower Cost of Ownership
HLP Series purifiers are designed for maximum uptime, and have proven themselves in the field, exhibiting higher utilization rates even in the most demanding and continuous duty applications.
The HLP10 uses specially selected components to help ensure maximum reliability and lower cost of ownership. These premium components include:
Best-in-class Allen-Bradley1 PLC
Reliable Gardner Denver2 Zephyr series vacuum pump with 12 month service interval (8760 hours run time).
Viking3 gear pumps — proven performers for more than 20 years in Pall purifiers
Pall HLP Series purifiers standard features include:
Pall WS12 Water Sensor
Low watt density heater (8kw output)
Controlling the dissolved as well as the free water in the reservoir is critical in ensuring the absence of free water during operation. With the Pall HLP10 purifier, this is done efficiently, easily and reliably. The diagram below illustrates the concept.
Specifications
Flow Rate:
10 GPM (38 LPM)
Dry Weight:
1460 Lbs (662kg)
Dimensions (caster or floor mount):
80.7" H x 56" L x 35.5" W (205 cm x 142 cm x 90 cm)
Viscosity Range:
3 cSt to 1000 cSt
Seal Material:
Fluorocarbon
Electrical Enclosure:
NEMA 4 (IP65)
Inlet Fluid Temperature:
165° F (74° C) maximum
Ambient Temperature:
(special options available for higher ambient temperatures)
39° F to 105° F (4° C to 41° C)
Inlet Pressure Range:
-14" Hg to 10 PSI (-0.5 bar to 0.7 bar)
Outlet Pressure Relief Setting:
80 PSI (5.5 bar maximum)
Operating Vacuum Range:
-15" to -22" Hg (-0.5 bar to -0.75 bar)
Heater Capacity:
8 kW (low watt density)
Paint Scheme:
Epoxy powder coated (suitable for industrial phosphate ester service)
Fluid Filter Housing:
UR310 Series with 40" element
Performance
HLP Series oil purifiers have shown on average 40% faster dehydration rate when compared to a typical, non-Pall , similarly sized purifier.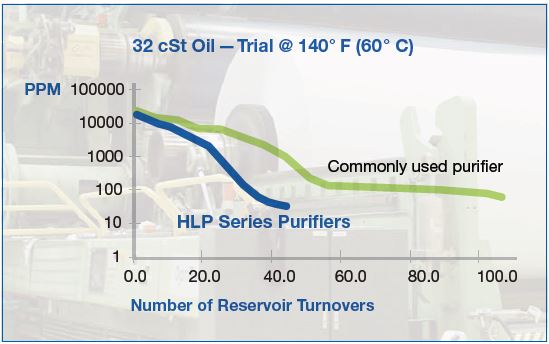 Ease of Use
The HLP10 series offers the following features to increase versatility in service and lower cost of ownership:
Low maintenance
Able to work with wide range of oil viscosities (3 cSt to 1000 cSt)
No utility water required for cooling or vacuum pump operation
Focus on Your Process, Not on Your Purifier
HLP Series purifiers requires the minimum of user interaction, which allows users to focus more on their process and less on the maintenance and upkeep of their purifier. The HLP purifier is one of the easiest purifiers to operate. Simply connect the purifier to the reservoir, power up, and press the start button.
Dimensional Drawings (inches)

Ordering Information
HLP10 [1] [2] Z [3] [4] [5] [6] [7] 
*WS12 water sensor is standard equipment on all HLP purifiers*
Note:Z indicates fluorocarbon seals are standard.
Contact Pall Sales for other options.
Select from the following list of standard purifier options:
Table 1
Code
Voltage
R3
380V / 50 Hz / 3P
W4
480V / 60 Hz / 3P
14
575V / 60 Hz / 3P
Table 2
Code
Filter Element Options
Beta≥2000
Based on ISO 16889
CST Rating*
AZ
3
07/04/01
AP
5
11/08/03
AN
7
13/09/04
AS
12
15/11/06
AT
25
16/14/08
*CST: Cyclic Stabilization Test to determine filter rating under stress conditions, based on SAE ARP4205.
These ISO codes are laboratory measurements under standard conditions. Cleanliness measured in actual operation will depend on operating conditions and sampling method.
Table 3
Code
Mounting Option
C
Casters
N
Floor
P
Tow Package
Table 4
Code
Ports
T
NPT Tapered
Inlet = 1.5" FNPT
Outlet = 1.0" FNPT
Table 5
Code
MFG Location
W
Western Hemisphere
Table 6
Table 7
Code
Special Options
OMIT
Power Lighting Scheme
P001
Tested with Fyrquel® Fluid
P002
Industrial Lighting Scheme
Spare Parts
Part Number
Description
100054101
Demisting Pad
150015001
1 Liter Vacuum Pump Gear Oil
VLR60BRKIT
Vacuum Pump Breather Kit
PFS1001ZMH
Exhaust Concealer
HC02935EE5
Inlet Air Breather
HC0293D004
Air Breather Indication
UE310A+40Z
See Table 2