Description
The most extensively used backflushable pleated filter in power plant condensate.
Backflushable pleated filter designed specifically for use in power plants
The Hydro-Guard PPB-R is used in condensate applications with resin precoat
Constructed with the highest purity materials (no fillers, talcs, TiO2 or surfactants) for minimal rinse-up time
Surface area exceeds that of conventional condensate filters by a 20:1 ratio for lower pressure drops, increased filter life and longer backflush cycles
Eliminates costs associated with use and disposal of powdered resins
Iron oxide and suspended copper are typically reduced by 98%
Constructed to retain the resin precoat on the surface for efficient backflushing and particle removal.
Specifications
Performance Specifications
Maximum Operating Temperature:
180 ºF (82.2 ºC)
Maximum Differential Pressure:
40 psid (2.8 bar) @ 150 ºF (65 ºC)
 
Product Feature
Product Benefit
Customer Benefit
Backflushable filter element
Longer on stream life
Reduced number of filter changeouts
Lower disposal costs
Reduced personnel exposure to
radiation during filter changeouts
High surface area
Longer run times
Higher dirt holding capacity
Lower operating costs
Fewer backflushes for reduced
disposal costs
All Polypropylene
Virtually no extractables
Incinerable
Radiation Resistant
No rinse-up required
Concerns eliminated with regard to chemistry changes
Reduced startup costs (i.e. downtime
rinse-up water, etc.)
Modular design
High structural integrity
Easy retrofit into existing pressure
vessels
Absolute rated filter media
Highly efficient particle removal
Less damage from iron and copper in
boiler and turbine
Quicker plant startups
Fewer boiler cleanings
 
Product Specifications
Materials of Construction
 
Filter Media:
Polypropylene
Support Material:
Polypropylene
Hardware:
Polypropylene
Sealing:
Themal Bond
Gasket/O-ring Materials:
EPDM (standard),
Others available
 
Pressure Drop/Flow Data
 
Model
Delta Pressure ΔP = (k) (Flow Rate)
HGPPBR4
ΔP = (0.05) Flow Rate
HGPPBR10

ΔP = (0.03) Flow Rate

 
This information is with water at ambient temperatures. Differential pressuresare in PSID based on flow in GPM through a 10" (25.4 cm) element.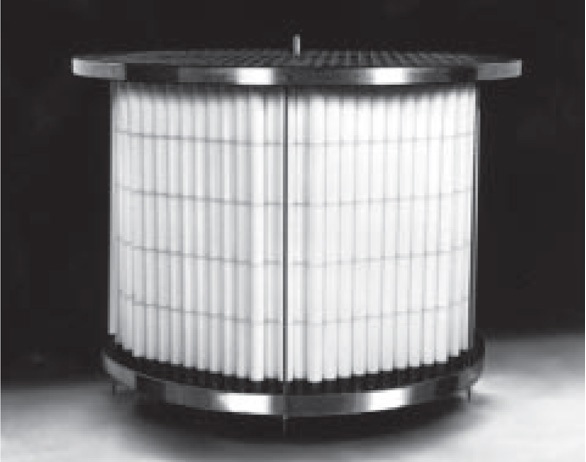 HGPPB-R also offered in tubesheet and cage designs.
Ordering Information
HGPPB - R – ■ - • - P - ♦ - ▼
 
Code ■
Filter Grades*
4
4 μm
10
10 μm
 
* Based on typical application usage.
** For details, contact Pall Corporation.
1 - Registered trademark of DuPont Dow
 
Code •
Cartridge Lengths(nominal)
10
10" (25.4 cm)
20
20" (50.8 cm)
30
30" (76.2 cm)
40
40" (102 cm)
50
50" (127 cm)
60
60" (152.4 cm)
70
70" (178 cm)
80
80" (203.2 cm)
 
 
Code ♦
Gasket/O-ring Materials
S
Silicon
N
Buna N
V
Viton1A
E
EDPM
 
 
Code ▼
End Configurations
DOE
DOE with elastomer gasket seal and endcaps
M3
SOE flat closed end, external 222 O-rings(retrofits other manufacturers' Code 0)**
M6
SOE flat closed end, external 226 O-rings(retrofits other manufacturers' Code 6)**
M7
SOE fin end, external 226 O-rings (

retrofits other manufacturers' Code 7)**

M8

SOE fin end, external 222 O-rings (

retrofits other manufacturers' Code 5)**

COOP
Fine thread direct screw in 
TVO
Extended neck for better sealing
PAK
Easy installation and removal; double seals for high integrity
PEA
Retrofit for 2" (5.1 cm) seat cups
AERO
Connects directly to tube sheet without additional hardware