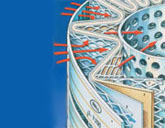 Need Help?

More Information

Description
Ultipor® III Filter Elements
High performance Pall Ultipor® III filters incorporate state-of-the-art design technology, including a unique patented "helical wrap" pleat support system and composite element structure for unsurpassed strength, performance and service life. The result is a cost-effective solution clearly superior to traditional filter designs.
Element Features:
1. An outer helical wrap tightly bonds to each pleat for uniform, rigid pleat spacing. This minimizes pleat flexing and possible media damage, even under severe cold start or pressure surge conditions.
Benefit: Reliable, consistent performance and resistance to severe operating conditions.

2. Proprietary plastic upstream and downstream support layers have built-in flow channels to prevent media blind-off as pressure drop increases.
Benefit: Extended element life for lower maintenance costs.

3. Media is made up of inert, inorganic fibers securely bonded into a fixed, tapered pore structure that preserves high particle removal efficiency throughout the life of the element. Tapered pores spread particulate through the entire media depth for maximum dirt holding capacity.
Benefit: Consistent filter performance and extended service life.

4. O-ring seals, corrosion resistant end caps and a rugged metal inner core complete the element structure. Coreless Ultipor III elements have no metal components. End caps are reinforced polymer and the core is part of the filter housing. Thus the element is lightweight (60% lighter than traditional designs), crushable, and incinerable.
Benefit: Environmentally friendly product reduces disposal and maintenance costs.