Vent Filters
Pall's vent filters are self-contained, compact filter devices designed to provide high efficiency removal of airborne bacteria and particulate under dry and moist conditions to protect equipment, research results and laboratory environments.
Pall offers a broad portfolio of vent filters that make it easy to match filter performance to application requirements.
Types of disposable vent filters:
Acro® 37 TF Vent Devices with PTFE Membrane

Bacterial Air Vents with Glass Laminate
Acro® 50 Vent Devices with Emflon II PVDF Membrane
Acro® 50 Vent Devices with PTFE Membrane
AcroPakTM 300 Vent Capsule with PTFE Membrane
Vacushield™ Vent Device
AcroVent™ Vent Device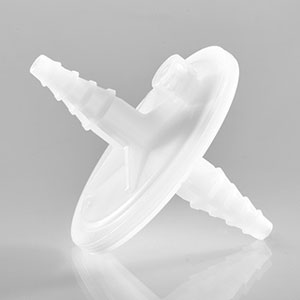 Description
Vent filters can provide a sterile barrier for air or gases entering or exiting vessels such as bioreactors, fermentation tanks, or carboys. These filters maintain the sterility of the interior environment and protect the atmosphere from contaminants within the vessel. Pall vent devices contain hydrophobic membranes that prevent the entry of water and aerosols into sensitive equipment, thereby reducing repairs and prolonging the life of the equipment. Vent devices also protect the lab environment from aerosolized pathogens.
For the protection of the laboratory environment and prevention of culture contamination Pall offers self-contained, compact vent filter devices for the high efficiency removal of airborne bacteria and particulate under dry or moist conditions.

The most important considerations when selecting a gas or vent filter are air flow rate and particulate or microorganism retention. The membrane material in the filter must provide sufficient surface area (effective filtration area) or open space to accommodate the air flow required by the system. Pall offer devices with effective filtration areas (EFAs) that range from 7.5 to 300 cm2, allowing users to select the most appropriate vent size for their application.
The filter should also efficiently retain particles and aerosol droplets, and, if sterile air or gas is required, retain bacteria.
Pall supply a family of vent filters to satisfy the requirements of different applications. The Acro 37 TF, Acro 50, and AcroPak 300 vent filters are integrity testable, making them ideal in applications where sterility is a concern. These venting products are available with a PTFE membrane that offers a high level of hydrophobicity and assures the best system performance when used as a sterile barrier. PTFE will not absorb moisture that can cause premature reduction of air flow. Whilst the PTFE membrane acts as an excellent hydrophobic barrier in venting applications, these filters may also be used for the filtration of low surface tension liquids such as harsh organic solvents.
The Bacterial Air Vent features an economical glass laminate filter media, it can operate at high temperature and pressure ratings, and high air flow rates.
Specifications
| Filter Area | Vent Filter |
| --- | --- |
| Low | Acro 37 TF Vents, Bacterial Air Vents |
| Medium | Acro 50 Vents with either PTFE or Emflon II PVDF Membrane |
| High | AcroPak 300 Capsule with PTFE Membrane |

Pall's vent filter devices are all constructed out of durable, rugged polypropylene housings that have a broad chemical compatibility.

Applications
Use vent filters from Pall Laboratory for venting receiving vessels, isolation or environmental chambers, bioreactors, fermentation tanks, carboys, and other small containers
Use in-line for low-pressure sterile air/gas delivery to instruments and culture vessels, bioisolation of a vacuum source, flushing instruments, and cleaning parts
Devices containing PTFE membrane can also be used for the filtration of liquid solvents
FAQs
1. What are some of the practical uses of vent filters in laboratories?
Vent filter devices can be used across a wide range of laboratory applications. These include:
Equilibration of gasses generated during normal cellular growth and metabolism
Protecting aspirators, vacuum pumps and house vacuum lines from aerosols or liquid intrusion
Filtering air or gas into equipment
Filtering air or gas of unwanted microbes and particulate to maintain optimal growth conditions in a bioreactor
Protecting sensitive electronics from aerosol or fluid damage
Protecting the laboratory work environment form unwanted aerosol contamination
2. What factors should be considered when selecting the correct vent filter for an application?
When selecting the correct vent device it is important to consider the desired air flow rate and micro-organism/particulate retention. The membrane in the vent filter must provide sufficient flow rate at appropriate differential pressure to accommodate the air flow required. The filter should efficiently retain particles and bacteria.
3. How many times the filter can be reused post autoclaving?
The filters are autoclavable and reusable as long as they pass an appropriate integrity test. The filters should be integrity tested after each autoclave cycle and can be reused if they pass the appropriate integrity test. They can withstand an autoclave temperature of 121-123C° (250-253 F°) for a maximum of 20 mins at a pressure of 1.0 bar Please reference the products data sheet for the integrity test values.
4. Can we sterilize Acro 50 PTFE vent filters by gamma irradiation?
Acro® 50 Vents with PTFE media cannot be gamma irradiated as it has negative impact on membrane integrity.
5. Is there an inlet and outlet side to Acro® 50 Vents with PTFE?
Yes, the printed side of the filter is the inlet side or upstream side

6. How should one perform the water break through test (WBT)?
The Water break through test on Acro 50 vent filters can be performed with the help of a handheld integrity test device (part number 4252). The procedure is outlined below:
Fill a 10 ml syringe with distilled and clean filtered water (Ideally passed through 0.2 micron rated filters) Connect the syringe to the integrity testing device and to the Acro 50 filter as shown in the picture below. Make sure to connect the integrity testing device to the inlet side (printed side) of the filter and push in water till the pressure gauge reads 2.1 bar or 30 psi or 210 kPa . Hold this for 15 seconds to confirm filter integrity. Please see the Acro 50 vent filter PII for a step by step procedure.
7. What is the major difference between Acro 37 and Acro 50 vent filters?
Acro 37 has smaller diameter 37mm with an effective filtration area (EFA) of 7.5 cm2. Acro 50 filters have larger diameter of 50mm with an EFA of 20 cm2

8. How is the distinct advantage of PTFE membrane over Emflon® (hydrophobic PVDF)

PTFE membrane offers a distinct advantage during the filtration of aggressive solvents
9. What is the difference between Acro 50 devices with PTFE membrane and Acro 50 devices with Emflon II membrane?
Acro 50 with Emflon II has hydrophobic PVDF membrane and are much lighter in weight.
10. What is the significant advantage of lower weight of Acro 50 with Emflon II devices?
Most customer prefer Emflon II so that they can be gamma sterilised. In addition to this, the low weight of these devices helps in avoiding crimping of the tubing that is attached to the filter.
11. What dosage of gamma irradiation can the filters can withstand?
Only Emflon II vent filters can be sterilized by gamma irradiation and can withstand till 50 Kilogray radiation.
12. Can we sterilize Acro 50 with Emflon II devices by autoclaving too?
Yes, Acro 50s with Emflon II can be autoclaved at 121 degrees c (250 degrees F) for 20 min apart from gamma irradiation.
13. Can Acro 50 devices with Emflon II withstand multiple cycles of autoclave?
Acro 50 devices with Emflon II can withstand up to a maximum of three autoclave cycles at 131 degrees centigrade. However, we recommend performing an integrity test to confirm filter integrity