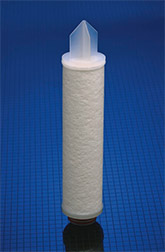 Product image is a representative example for illustration purposes. Actual product may vary.
Nexis® T Filter Cartridges, Removal Rating 10 μm, Polypropylene, Length 30 inches, silicone, SOE fin end, external 226 O-rings
Product ID: NXT1030UM7S Need this product with different specifications
Click Request a Quote to get a quote on this product.
Membrane Material
Polypropylene
Cartridge Length (Imperial)
30 in
Cartridge Length (Metric)
762 mm
Cartridge Length (Metric)
76.2 cm
Gasket / O-Ring Material
Silicone
End Configuration Code
M7
End Configuration
M7 - SOE fin end, external 226 O-rings (retrofits othermanufacturers' Code 7)4
Change Out Differential Pressure
2.4 bard
Cartridge Outer Diameter (OD) (Imperial)
2.5 in
Cartridge Outer Diameter (OD) (Metric)
6.4 cm
Steam Sterilization
Not recommended
---
---
Similar products in this line