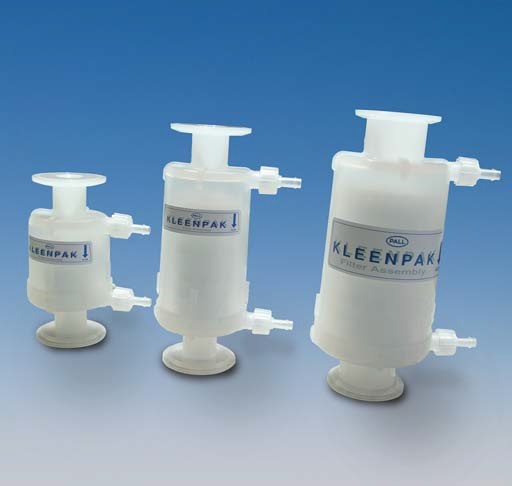 Need Help?

More Information

Description
For Small Scale Sterile Filtration of Gases
Pall Kleenpak capsules combine Pall's proprietary Emflon PFRW membranes for sterilizing filtration of air and gases with specially designed self-contained assemblies, to achieve filtration security and user convenience in small scale compressed gas and vent applications.
Description
At the heart of every Kleenpak Emflon PFRW capsule are Pall's advanced 0.2 micron rated polytetrafluoroethylene (PTFE) double-layer membranes, which provide high performance sterilization of gases. The robust PTFE membranes are inherently hydrophobic, and designed specifically for reliable removal of bacteria and bacteriophage.
These filters fulfill a microbial liquid bacteria challenge validation according to guidelines for sterilizing grade gas filters, and have a particulate removal rating of 0.003 micron in gases. They provide sterile effluent, ensuring process security.
The Kleenpak capsule uses well-proven proprietary Pall techniques for filter construction and heat sealing, to ensure highest possible security against filter bypass, even under conditions of pulsed flow. It is designed to withstand multiple autoclave cycles over the life of the filter. The capsule configuration includes a 38 mm (1.5 inch) sanitary clamp coupling connection to allow for easy installation into existing pipework.
Features and Benefits
Features
Benefits
Robust self-contained assembly with clamp coupling connections for direct installation into the process

User convenience
Reliability and process security

High performance Emflon PFRW sterilizing grade membranes

Excellent removal efficiency

Multi-cycle autoclave robustness

Economical operation due to long service life

High flow rates and low pressure drop

Cost-effective sizing and reduced running costs

Absence of any glues, binder resins or surfactants
100% integrity tested prior to dispatch

Documented manufacturing quality requirements

Individually serialized capsules

Full traceability to materials and production records