Pall Corporation's Dynalloy
®
porous metal fiber medium is specifically designed to optimize particulate capture via its asymmetrical graded pore structure. This structure exhibits the finest pores on the upstream side of the filter media, insuring the capture of particulates at the filters' first surface, where they are easily removed by in-situ, reverse flow operations.
Manufacturing is done completely in-house, including the production of the metal fibers, the formulation of the proprietary base medium, and the design of the element. The process concludes with Pall's scientifically controlled sintering process.
The sintering process fuses the structure of the filter media, insuring a "weld-bond" which utilizes no "binders" that might otherwise shed and contaminate downstream equipment and/or final product quality.
Produced from fine metal fibers ranging from 2 to 38 μm in diameter, the resulting filtration medium exhibits high-efficiency particulate capture and low flow resistance characteristics.
Gaseous service filter cartridge configurations are available in point-of-use designs (i.e. cleaned off-line), or as self-cleaning elements (i.e. blowback filters).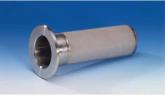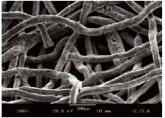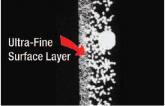 Advantages of Dynalloy Medium:
Resistant in high-temperature and/or corrosive environments
Sintered medium design guarantees a fixed pore structure, resulting in quantitative solids separation and superior effluent quality
Uniform pore distribution produces a barrier medium that exhibits low flow resistant characteristics and high void volume
Flame-arresting characteristics provide a high level of safety in handling pyrophoric or explosion-prone powders
Typical Applications
Ultipleat Plus candles are recommended for polymer melt applications where fine filtration is required and where an increase in on-stream life is desired. They are also beneficial for applications where a lower residence time and/or a smaller residence time distribution is needed. Ultipleat Plus candles can be used with a variety of polymers, including, but not limited to:
Polyester (PET)
Carbon Fiber Precursor (PAN)
Nylon (PA 6, PA6,6, etc.)
Recycled Polymers (rPET, etc.)
Polyurethane
And many more!
Performance Specifications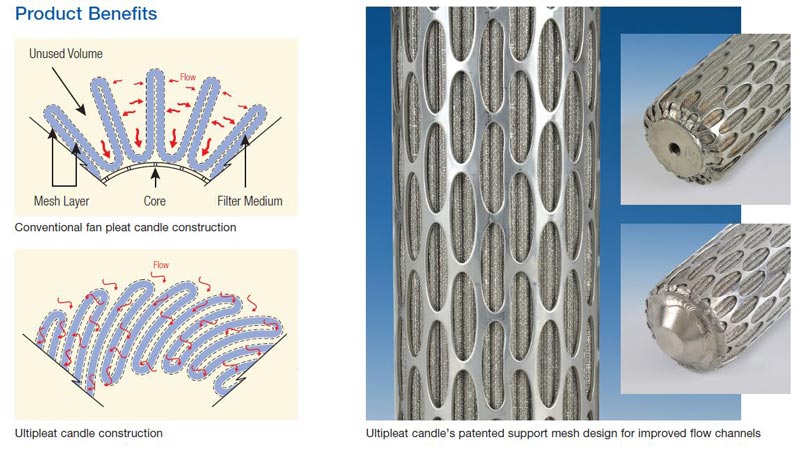 Standard filter grades
7 μm and up
Maximum differential pressure
128 bard (1850
psid
)
Maximum operating temperature
330°C (626°F)
Product Specifications
Standard materials of construction
304, 304L, 316, 316L
Standard Dimensions (nominal)
Outside Diameters: 1.375" – 2.75"
Lengths: 26 inch (66 cm) Sections
 
Features
Advantages
Benefits
Laid Over Pleat




Up to 50% longer on-stream life
Fewer changeovers, cleanings, polymer waste produced resulting in significant cost savings
Lower residence time resulting in less particulate formation during processing

Higher dirt-holding capacity from uniform use of filter area
Narrower residence time distribution leading to more consistent and particle free product

Layered Construction

Embossed mesh with flow channels
Customizable media

Reduced pressure differential resulting in longer on-stream life
Fine filtration available from 7 micron and up

 

Materials of Construction
316/316L SST; 310 SST; Inconel
4
600; Hastelloy
5
X; Hastelloy
5
C-2000; Haynes
5
HR-1605
4 Inconel is a registered trademark of Special Metals Corporation.

5 Hastelloy, Haynes, and HR-160 are registered trademarks of Haynes International, Inc.