For Particle Removal at Elevated Flow Rates
Ultipleat High Flow filter elements are designed for cost-effective, highly efficient particle filtration in high flow rate food and beverage applications.
The Ultipleat High Flow filter elements are designed for high flow rates up to 113 m
3
/hour (500 US gal/min) in a single 1524 mm (60 inch) cartridge. They utilize Profile UP media with unique, laid-over pleat geometry. The Ultipleat High Flow element is a large diameter, single open ended, pleated cartridge with an inside to outside flow pattern and a core-free construction.
The filter's unique, laid-over pleat geometry, combined with its large diameter means fewer elements are required for a given flow rate than standard diameter cartridges. Filter vessels are correspondingly smaller, resulting in lower capital and installation costs, as well as reduced operating costs.
Features
Benefits
Fixed fiber matrix with no adhesives or surfactants

Consistent filtrate quality
Highly stable structure
Higher product yields
Process reliability

Pleated (laid-over pleat geometry) media in a large diameter cartridge format

Lower capital and installation costs*
Reduced installation footprint*
30% lower operating costs*
Longer service life
Over 10% water savings*

Inside to outside flow configuration
Protects filtrate from recontamination by trapping particulates inside the cartridge
*Typical compared to standard cartridges used in test comparison.
Ultipleat High Flow filters are generally recommended for water flow rates greater than 20 m3/hour (88 US gal/min).
Please
contact your Pall representative
for individual fluid applications and product options more suitable to lower flow rates.
Materials of Construction
 
Filter Medium
Polypropylene
Support Mesh and Outer Wrap
Polypropylene
End Caps and Handle
Polypropylene (10% glass fiber reinforced)
O-ring Seal
Ethylene Propylene Rubber
 
Food Contact Compliance
Please refer to the Pall website for a Declaration of Compliance to specific National Legislation and/or Regional Regulatory requirements for food contact use.
Technical Information
The technical information provided is based on controlled laboratory tests done on typical production filters at the conditions described, unless otherwise indicated. Actual operating conditions may affect the filter's performance.
Operating Characteristics in Compatible Fluids1
 
Maximum Differential Pressure
Max. Operating Temperature2
3.45 bard (50 psid) (inside to out flow)
82 °C (180 °F)
 
1 Fluids which do not swell, soften or adversely affect any of the filter components.
2 Not recommended where the temperature is cycled by more than 28 °C (50 °F).
Maximum temperatures are for continuous service.
Figure 1:
Ultipleat filter element construction, showing unique laid-over pleats and uniform flow distribution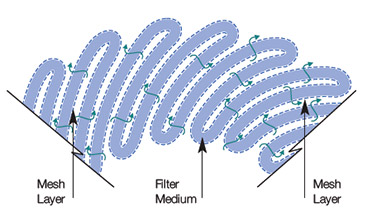 Typical Flow Rates3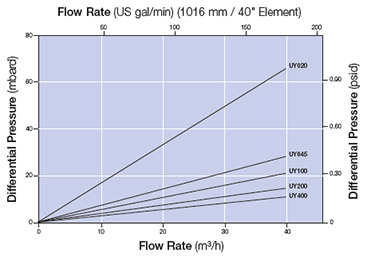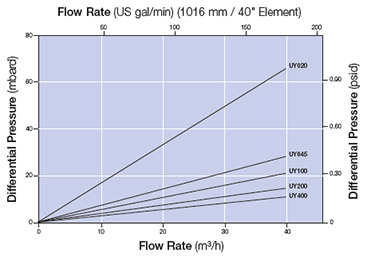 3 Typical initial clean delta p, for 1016 mm (40") and 1524 mm (60") elements, water at 20 °C (68 °F). For assistance in filter assembly sizing, especially for fluids with a viscosity greater than 1 centipoise, contact your Pall representative.
Quality
Cartridges produced in a controlled environment 
Manufactured according to ISO 9001:2008 certified Quality Management System
This information is a guide to the part number structure and possible options. For availability of specific options and housing details, please
contact Pall
.
Example Part Number:
HFU 6
40
UY020
JUW (See bold references in tables below.)
Element Part Number: HFU 6 <Nominal Length Code from Table 1> <Liquid Removal Rating Code from Table 2> JUW
Table 1 - Nominal Length
 
Code
Description
40
1016 mm (40 in.)
60
1524 mm (60 in.)
 
Table 2 - Liquid Removal Rating4
 
Code
Rating (μm) at 99.98% Efficiency (ß-5000)
Rating (μm) at 99% Efficiency (ß-100)
UY020
 
2.0
UY045
4.5
2.5
UY100
10
6.5
UY200
>25
17.9
UY400
50
  
 
4The UY400 grade was qualified by maximum spherical particle retention test.