Depth Filters for Aggressive and High Temperature Fluids
All PTFE construction for compatibility with a wide range of process fluids
Available in retention ratings of 0.5, 1, 3, 10, or 25 microns (μm)
Fits into most standard housings
May be used as a final filter in many applications, or to provide superior protection for membrane final filters
PVDF and PFA housings are available for use in all fluoropolymer filtration systems
M31 or DOE end configurations are available as standard products
1 Modified M3 end cap configuration features single 222 O-ring; M3 equivalent to Pall Code 3.
Applications
Acid etch systems - including Piranha Etch Solvent Strip applications
Most aggressive and/or high temperature acids or solvents
Recirculating Applications
Retention ratings, by convention, are for single pass applications. Many applications involve recirculating systems, where the filter media has several opportunities to capture contaminant. For example, in a 15.1 liter (4 gallon) system circulating at 7.6 lpm (2 gpm), the fluid passes through the filter cartridge five times in ten minutes. Thus, the effective retention of a filter cartridge is much finer. Specifically, a cartridge rated at 0.5 μm (nominal) on a single pass is often an effective 0.2 μm (nominal) filter on a recirculating basis.
Multi-Pass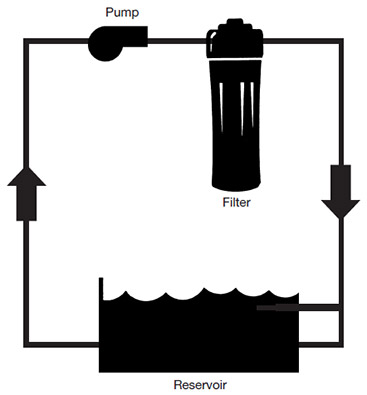 Performance Specifications
Filter grades
0.5, 1, 3, 10, 25 μm
Maximum operating temperature
PTFE is broadly compatible with many chemicals up to 185°C (365°F)
2
Product Specifications
Materials of construction
Filter media:
PTFE (fluoropolymer)
Center core:
PTFE
222 O-ring:
FEP encapsulated fluorocarbon elastomer (standard)
Dimensions (nominal)
Outside diameter:

6.35 cm (2.5 in.), DOE only
7.14 cm (2.81 in.), M3 only

Lengths:
25.4 cm (10 in.), 50.8 cm (20 in.), 76.2 cm (30 in.)
Additional High Temperature Materials
Pall can also supply DFT Classic filter cartridges in polyphenylene sulfide (PPS) for high temperature and aggressive applications. Additional PTFE products are also available, including the Fluoryte™ Series filter cartridge, an all-fluoropolymer membrane cartridge. Contact your local Pall representative or distributor for specific information on these products.
2 Because so many factors (e.g. elevated temperatures) can affect the chemical resistance of a given product, you should pre-test under your own operating conditions observing applicable safety practices such as those given in the Material Safety Data Sheet for each chemical. Pall Corporation can provide specific compatibility guidance, testing and data upon request.
Liquid Retention Ratings (μm) (by ASTM F-795 Test)
Single Pass
Multi-Pass
0.5
0.2
1
0.5
3
1
10
3
25
10
Typical Flow vs. Differential Pressure for Application Sizing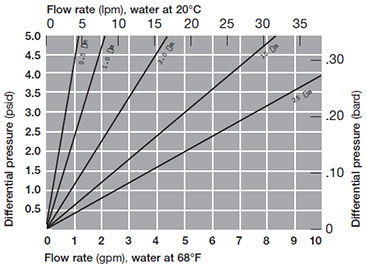 Unit conversion: 1 bar = 100 kPa
Flow rate is for a 25.4 cm (10 in) cartridge. For liquids other than water, multiply differential pressure by fluid viscosity (cP).
Pall Part Number = T
[1] [2] [3]
Y -
[4]
Table 1
Code
Filter grades (μm)
0.5
0.5
001
1
003
3
010
10
025
25
Table 2
Code
Diameter (cm/in.) nominal
A
6.35/2.5
BB
7.14 /2.81
Table 3
Code
Cartridge lengths (cm/in.) nominal
10
25.4/10
204
50.8/20
304
76.2/30
Table 4
Code
End configurations
Blank
DOE industrial
M3
SOE flat closed end, external 222 O-ring (retrofits other manufacturers' Code 0)2 ("BB" diameter) - only
2 For details, contact Pall Corporation.
4 If selecting Code 'A' (Table 2) and Code '20' or '30' in Table 3, add a 'W' in front of the Table 3 code. For example, 'AW20' or 'AW30' for the correct part number.