The Mini Kleen-Change filter assembly is designed for small scale dispense applications where low hold-up volume and cleanliness are critical. The low hold-up volume is ensured by the very small footprint. Cleanliness and compatibility are ensured by the all fluoro-polymer construction.
20nm grade has newly added to this product line that allows to remove more finer particles for the leading-edge industries.
Low hold-up volume
All fluoro-polymer construction
No elastomeric seals
Cleanroom manufactured
Materials of Construction
Components
Materials
Filter Media
PTFE
Support and Drainage
FEP / PTFE
Core, Cage, and End Caps
PFA
Housing
PFA
Removal Ratings
20 nm, 0.05 µm, 0.1 µm
Filter Area
320 cm2 / 50 in2
Connections
Inlet / Outlet : ¼" Super Pillar Fitting *
Vent / Drain : ¼" Super Pillar Fitting *
Maximum Operating Temperature
248 °F / 120 °C
Maximum Operating Pressure
58 psi @ 77 °F / 0.4 MPa @ 25 °C
29 psi @ 194 °F / 0.2 MPa @ 90 °C
22 psi @ 248 °F / 0.15 MPa @ 120 °C
* Super Pillar is a trademark of Pillar Packing Co., Ltd.
Pressure Drop vs. Liquid Flow Rate (Water, 20°C)1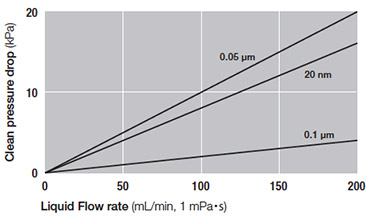 1For liquids with viscosity differing from water, multiply the pressure drop by the viscosity in mPa•s.
Dimensions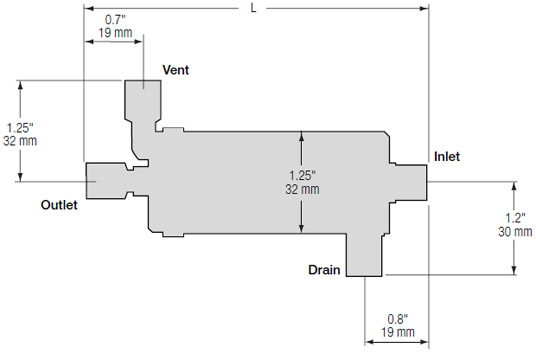 Part Numbers / Ordering Information
Code
Removal ratings
Length L (in / mm)
FK
20 nm
4.25 / 108
F0005
0.05 µm
F001
0.1 µm