The Ultipor GF-HV filter is well suited for slurry filtration applications having high viscosities and substantial solid concentrations. Typical high solid concentration fluids include ceramic slurry, metal slurry and conductive paste. In addition, Ultipor GF-HV filters are appropriate for very fine, sub-micron dispersion filtration, such as that used in color resist, inkjet ink, polishing slurry and similar applications.
Pall's Ultipor GF medium is a resin-bonded microfiber matrix designed for fine filtration, low pressure loss and long service life. This resin-bonded structure resists contaminant unloading or media migration.
The unique HV version of the Ultipor GF filter family is specifically constructed for high-viscosity applications where standard media may not be suitable. The combination of a rigid support mesh and a highly porous medium structure provides exceptional flow characteristics, even at very fine sub-micron removal ratings and with high viscosity fluids.
Features
Advantages
Benefits
Unique matrix with resin-coated fibers
Robust, fixed pore structure
Resists unloading and media migration
Capable of filtration down to 0.1 μm
Fine filtration of dispersions
Lower cost for filtration versus membrane filters
Excellent particle removal and retention
Consistent and effective filter performance
Reproducible filtrate results from batch-to-batch
Optimized pleat spacing with stronger pleat support
Resists pleat deformation under conditions of high viscosity and high flow rate
Longer service life and excellent filter economics
Available lab test filter with small effective filter area
Permits testing and scale-up with identical versions of full-size filters
Facilitates selection of appropriate filter and enables prediction of filter
performance in actual service
Medium utilizes very fine fibers in filter matrix
Very high void volume and porosity
Excellent flow rates
Pressure Drop vs. Liquid Flow Rate1
AB1 / MCY1001 (254 mm / 10 in. cartridge)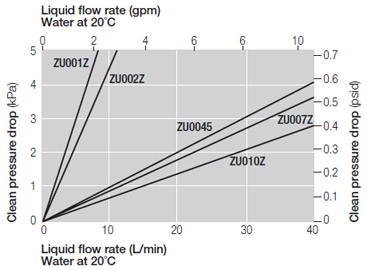 DFA4201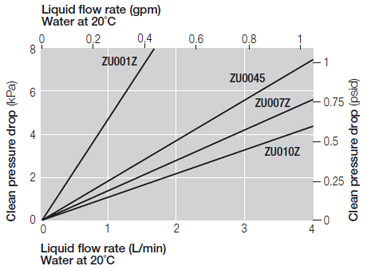 1 For Liquid with a viscosity differing from water, multiply the pressure drop by the viscosity in centipoise.
Configurations and Dimensions (nominal)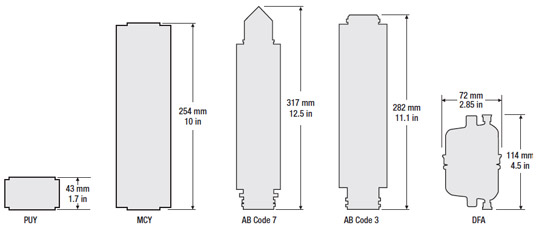 Part Numbers / Ordering Information2
| | | | |
| --- | --- | --- | --- |
| Lab Test Filter | Double Open-Ended Filter | Single Open-Ended Filter | Capsule Filter |
| PUY01 [2] J3 | MCY1001 [2] J3 | AB [1] [2] [3] [4] | DFA4201 [2] |
Table 1
 
Code
Length
1
10 inch
2
20 inch
3
30 inch
 
Table 2
 
Code
Removal Ratings (μm)
ZU001Z
0.14
ZU002Z
0.24
ZU0045
0.45
ZU007Z
0.7
ZU010Z
1
 
Table 3
 
Code
O-ring Specifications
3
AS568A-222
7
AS568A-226
 
Table 4
 
Code
O-ring Materials
H1
FEP Encapsulated Fluoroelastomer
J
EPDM (Standard)
 
2 Not all removal ratings are available in each filter style. Please contact Pall for the part number availability.
3 This filter only available with EPDM gaskets.
4 Removal rating based on PSL sphere retention with positive zeta potential media

Specifications and availability: The information provided in this literature was reviewed for accuracy at the time of publication. Product availability may be subject to change without notice. For current information, consult your local Pall distributor or contact Pall Corporation directly.