Description
Small Flow Gas (SFG) Coalescing Assemblies are rugged, inexpensive, high efficiency assemblies that eliminate problems caused by oil, water, and dirt in air or gas.
SFG Coalescer Features
Positive Seal:
Standard seal material is Nitrile (H13) available as either an internal o-ring or flat gasket depending on coalescer size.
Outer Drainage Layer: Drainage of coalesced liquid and protection from re-entrainment is provided by a polymeric outer drainage layer. This ensures consistent, high efficiency performance.
Metal Support Core: Axial strength and protection against liquid slugs are provided by a perforated inner support core constructed of
304 stainless steel.
Outer Cage: Media support during operation is provided by a 304 stainless steel outer support cage.
Primary Coalescer: Coalescing is achieved by use of a high area pleated glass fiber medium that is surrounded by a non-woven polymeric support and drainage layers. A patented surface treatment is used that enhances coalescer performance and lowers fouling tendency and pressure drop.
End Caps: 304 stainless steel end caps are used to improve cartridge strength and prevent contaminant bypass.
Key Benefits
Protects process analyzers
Safeguards instrument air operated equipment and systems
Prevents orifice plugging in pneumatic controllers
Improves accuracy of gas measurements in the field or plant
Decreases freeze-out and corrosion problems
Reduces fouling in small gas-driven engines
Provides reproducible high-quality gas for all operations using produced gas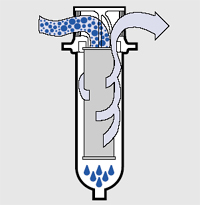 Inside to Out Flow Pattern of SFG Coalescer Assembly
SFG Coalescer Element Specifications
 
Coalescer Part Number1
PFS4463ZMH13
PFS1001ZMH13
 
 
 
Coalescing Efficiency at 0.3 µm
99.99%
99.99%
 
 
 
Rated Flow Air @ 100 psig (6.9 bard) and 100°F (38°C)
60 scfm (8.3 acfm)
200 scfm (27.6 acfm)
 
 
 
Effective Coalescer Area
0.84 ft2 (0.078 m2)
2.2 ft2 (0.204 m2)
 
 
 
Clean Saturated Pressure Drop
0.53 psid (36.54 mbard)
1.5 psid (103.4 mbard)
 
 
 
Maximum Temperature (water present)
140 °F (60 °C)
140 °F (60 °C)
 
 
 
Maximum Temperature (no water)
250 °F (121 °C)
250 °F (121 °C)
 
 
 
Maximum Differential Pressure2
50 psid (3.4 bard)
50 psid (3.4 bard)
 
 
 
Dimensions:
2 1⁄4 in. O.D. x 5 1⁄4 in.
(57.2 mm O.D. x 133.4 mm)
2 3⁄4 in. O.D. x 9 3⁄4 in.
(69.9 mm O.D. x 247.7 mm)
 
 
 
Sealing Mechanism
Single open-ended
with internal o-ring
Double open-ended
with gaskets / tie rod
 
1 Standard seal material is Nitrile (H13). Fluorocarbon Elastomer (H) and Ethylene Propylene (J) are also available for optimum fluid compatibility.

2 A change out differential pressure of 15 psid is recommended to ensure efficient operation.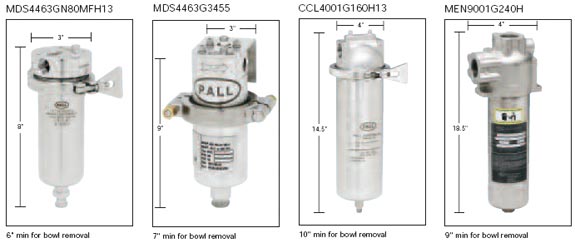 SFG
Housing
Part Number
Housing
Material of
Construction
Replacement
Cartridge
Design
Pressure
(psi/bar)

Number
of
Cartridges

Weight
(lb/kg)
Dry
Weight
(lb/kg)
Wet
Connection
& Drain Sizes
(NPT) (in/mm)
 
 
 
 
 
 
 
 
MDS4463
GN80MFH13
316 SS
PFS4463
ZMH13
150/10.3
1
3.6/1.7
5.7/2.6
0.5/12.7
 
 
 
 
 
 
 
 
MDS4463G
3455
316 SS
PFS4463
ZMH13
400/27.6
1
15.0/6.8
22.0/10.0
0.5/12.7
 
 
 
 
 
 
 
 
CCL4001G
160H13
316 SS
PFS1001
ZMH13
400/27.6
1
7.0/3.2
13.0/5.9
1.0/25.4
 
 
 
 
 
 
 
 
MEN9001
G240H
Nickel Plated
Carbon Steel
PFS1001
ZMH13
4000/275.8
1
26.0/11.8
32.0/14.5
1.5/38.1
 
Performance Specifications
Removal of 99.99% of all aerosols 0.3 microns and larger. Typical downstream aerosol concentrations are less than 0.003 ppm.
Patented surface treatment that prevents liquids from wetting the coalescer media allowing for higher gas flow capacity and lowered fouling tendency and differential pressure.
Consistent performance using thin fibers and fixed pore construction optimized for efficient coalescing.
Long service life due to pleated media structure and surface treatment.
Low energy losses with typical saturated pressure drop of 1.2 psid (82.7 mbard).
Wide range of compatibility for use with process gases, compressor oils, hydrocarbon condensates, and water.
To calculate the pressure drop for other process conditions use the
following equation:
∆P = KH QA2 ρ + KC QA µ
| | | |
| --- | --- | --- |
| where:  | ∆P:  | pressure drop in psid  |
|   | KH:  | housing pressure drop constant  |
|   | QA:  | actual flow rate in acfm  |
|   | ρ:  | gas density at operating conditions in lb/ft3  |
|   | KC:  | coalescer pressure drop constant  |
|   | µ:  | gas viscosity at operating conditions in cP  |
 
Coalescer Assembly P/N
KH
KC
 
 
 
CCL4001G160H13
0.00267
0.2703
 
 
 
MEN9001G240H
0.00973
0.2703
 
 
 
MDS4463G3455
0.04346
0.6864
 
 
 
MDS4463GN8MFH13
0.07000
0.6864