The PCM500 Fluid Cleanliness Monitor is a portable diagnostic monitoring device that provides a measurement of system fluid cleanliness.
Like the Pall PCM400, the new improved PCM500 uses proven mesh Blockage technology to report accurate, reliable, 3 part ISO 4406 cleanliness codes for most types of fluids, in many types of environment.
With the PCM500 you can:
Monitor contamination levels in mineral, synthetic, or water based fluids. Results are unaffected by the presence of water, air, or dark fluids
Get accurate, 3 part* ISO 4406 cleanliness code results in under 6 minutes and quickly take preventative action
Upload real-time results directly to mobile devices for analysis and action
'Pass off' cleanliness of new builds quickly and confidently
Protect your systems from catastrophic failure by detecting abnormal fluid cleanliness conditions quickly
The PCM500 can be permanently installed to monitor critical applications (including component test facilities) or used as a portable device for routine condition monitoring of various fluid systems
PCM500 Monitor Features

Proven mesh blockage technology provides accurate 3-part* ISO 4406, AS 4059 Table 1 (NAS 1638) or AS 4059 Table 2 cleanliness codes
Self cleaning procedure between each test ensures optimum accuracy of results
Compact, robust, fully self contained portable design (fluid sampling pump included)
Simple to use, color touch screen interface
Long battery life for extended operation in remote locations
Measurement of fluid cleanliness, temperature, viscosity, and optional water content.

* 3 part code measured at 4 µm, 6 µm and 14 µm (c) per ISO 16889.




For ordering and pricing information contact your local sales office or distributor Contact Us.
Component wash fluids
Cutting fluids
Aqueous solutions
Coolants
Water glycols
Mineral and synthetic oils
Lubricants
Fuels
For ordering and pricing information contact your local sales office or distributor Contact Us.
Power supply:
90-260 VAC or integral
12 VDC Lithium Ion battery
Battery life:
Typically 35 samples
Temperature:
10°C to 80°C (50°F to 176°F)
Range:
(dependent on fluid type)
Compatibility:
Water glycols, aqueous solutions.
Petroleum and synthetic oils
(hydraulic lubricating, dielectric, etc.)
fuels, industrial phosphate esters.
Seals:
Fluorocarbon
Operating viscosity:
1.5 to 450 cSt (30 to 2,200 SUS)
Pressure:
0 to 315 bar (4568 psi) max
Monitoring Range:
ISO 4406: <11/9/7 to 23/21/17
SAE AS 4059 Table 1
Class 1 to 12 (derived from NAS 1638)
SAE AS 4059 Table 2
>4 µm 1A to 12A, >6 µm 1B to
12B >14 µm 1C to 12C
Water in Oil % RH:
± 2% at 5 to 95% RH (PCM500W)
Accuracy:
± 1/2 ISO 4406 Code
Communication Ports:
3 x USB's (Data Acquisition, PC
Setup, Printer), Ethernet and RS232C (PLC Control)
Enclosure:
IP 65 (NEMA 4)
Weight:
11 kg (24 lb)
Dimensions:
400 x 260 x 250 mm
(15.8 x 10.2 x 10 inches)
| | |
| --- | --- |
| Real time data is displayed during test to show progress | Multiple test data can be stored and displayed for subsequent analysis and download |
Diagnostic and Monitoring Equipment
Please select from the following part number options only.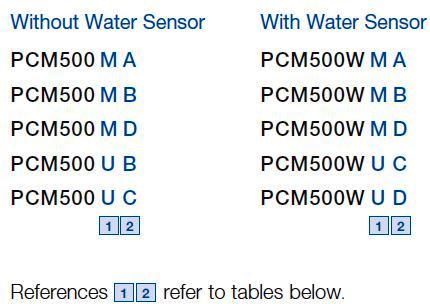 Table 1: Fitting Type

 
Code
Description
M
1⁄4 in. BSPP Female Swivel fitting to metric test point
U
1⁄4 in. NPT fitting and end cap
 




Table 2: Power Lead

 
Code
Description
A
UK Power Lead
B
European Power Lead
C
USA Power Lead
D
Australian Power Lead
 
Printer Kit and Accessories
PCM500-PRT
For ordering and pricing information contact your local sales office or distributor Contact Us.