Pall Corporation's
Dynalloy® porous metal fiber medium
is specifically designed to optimize particulate capture via its asymmetrical graded pore structure. This structure exhibits the finest pores on the upstream side of the filter media, insuring the capture of particulates at the filters' first surface, where they are easily removed by in-situ, reverse flow operations.
Manufacturing is done completely in-house, including the production of the metal fibers, the formulation of the proprietary base medium, and the design of the element. The process concludes with Pall's scientifically controlled sintering process.
The sintering process fuses the structure of the filter media, insuring a "weld-bond" which utilizes no "binders" that might otherwise shed and contaminate downstream equipment and/or final product quality.
Produced from fine metal fibers ranging from 2 to 38 μm in diameter, the resulting filtration medium exhibits high-efficiency particulate capture and low flow resistance characteristics.
Gaseous service filter cartridge configurations are available in point-of-use designs (i.e. cleaned off-line), or as self-cleaning elements (i.e. blowback filters).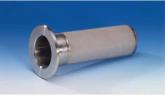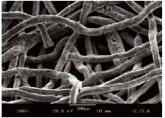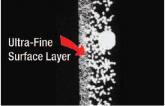 Advantages of Dynalloy Medium:
Resistant in high-temperature and/or corrosive environments
Sintered medium design guarantees a fixed pore structure, resulting in quantitative solids separation and superior effluent quality
Uniform pore distribution produces a barrier medium that exhibits low flow resistant characteristics and high void volume
Flame-arresting characteristics provide a high level of safety in handling pyrophoric or explosion-prone powders