The culmination of 30 years of expertise in water control for lubrication and hydraulic control circuits
With a design based on 30 years of actual field experience, the Pall HLP6 oil purifier combines the excellent efficiency of mass transfer purifiers with an exceptional level of reliability and ease of use.
Water contamination in oil systems is responsible for major maintenance and operational problems of critical components in lubrication and hydraulic circuits. From power generation turbines to paper machines, these problems include:
Increased corrosion in the system, especially at bearing locations
Increased oil oxidation and acid build-up
Sluggish response of control systems
Our experience in the field has shown that it is never enough to remove free water: centrifuges and coalescers alone cannot protect bearings against corrosion and fluid degradation.
Free water and dissolved water
In a typical oil system, temperature swings constantly change the dissolved water content of the oil. At the reservoir location it is critical to remove not only free water, but also a large portion of dissolved water. This is the only way to ensure that free water will not appear when the fluid goes through the cool parts of the system, especially when an oil cooler is used downstream of the reservoir.
Free water removal in typical turbine oil: bright clear aspect shows absence of free water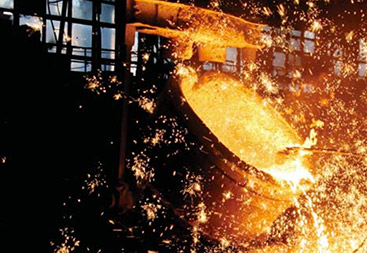 Applications Served
Power Generation
Main turbine lube oil
Boiler feed pump reservoir
Transformer oil
EHC systems
Pulp and Paper
Wet end/dryer lube
Press section lube and hydraulics
Steam turbine lube and hydraulics
Primary Metals
Roll mill automatic gauge control hydraulics
Roll mill gear and pinion lube systems
Roll grinder lube systems
Light Industrial
Bulk oil reclamation
Blow molding
Injection molding
Machine tool hydraulic oils
Automotive transfer line hydraulic oils
Fuels and Chemicals
Extruder gear boxes
Compressor and turbine lube oil
Boiler feed pump reservoir
Key Advantages
Improved System Performance
Fewer costly operational delays
Increased system reliability
Less downtime resulting from service interruptions
Can work on higher viscosity oils (up to 1,000 cSt)
Lower power consumption
Extended Fluid Life
Greatly reduced oil change outs due to contamination
Reduced System Wear
Less frequent component changes needed
Smaller parts inventory required
Reduced Fluid Disposal Costs
Sharply reduced need to dispose contaminated fluids
Reduced waste oil disposal costs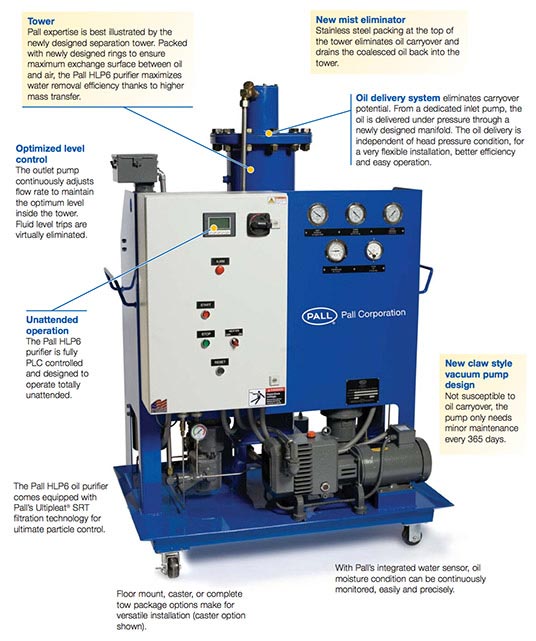 Flow rate
6 GPM (22.7 l/min) at 60Hz
Viscosity range
3 cSt to 1000 cSt
Seal Material
Fluorocarbon
Fluid compatibility
Petroleum and synthetic based fluids.
Working Temperature Range
Inlet Fluid Temperature
170 °F (76 °C) maximum
Ambient Temperature
39 °F to 105 °F (3.9 °C to 40.6 °C)
Enclosure
NEMA 4 (IP65)
Piping Codes
Conforms to ANSI B31.1 – Power Piping Code
Conforms to ANSI B31.3 – Process Piping Code
Dimensions
72" H x 48" L x 32" W
183 cm H x 122 cm L x 81 cm W
(same dimensions with or without casters)
Weight
1150 lbs (521 Kg)
Connections
Inlet - 1.5" FNPT Outlet - 1.0" FNPT
Inlet Pressure Range
-14" Hg to 10 PSI (-0.47 bar to 0.69 bar)
Maximum Outlet Pressure
80 Psig (5.5 barg)
Heater
4KW PLC Controlled
Paint Scheme
Powder-coated (suitable for industrial phosphate ester service)
Filtration
Pall's SRT filter series 319, 20" cartridge, from 3 to 22 microns available at 99.9% efficiency
 
The Pall HLP6 purifier has a newly redesigned vacuum tower which allows for very efficient water removal. It is designed to remove 100% of free gases and water (under steady state conditions), and up to 80% of dissolved gases and water. It is also designed to remove solid contaminants, with efficiency of 99.9% (down to 3 microns).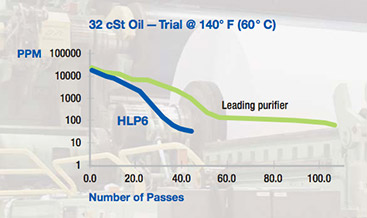 The HLP6 oil purifier showed a 40% faster dehydration rate when compared to a leading, similarly sized purifier.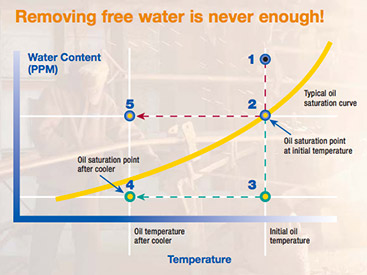 Initial water content is above saturation (free water).
Maximum water removal capability of "free water removal" devices (coalescers, centrifuges, etc.) is to the oil's saturation point.
Water content achieved with mass transfer dehydration is significantly below the oil's saturation point.
Water content achieved with mass transfer dehydration remains below the oil's saturation point even after oil is cooled. This prevents the formation of harmful free water.
If only free water is removed at initial temperature, when oil is cooled the amount of harmful free water in the oil can increase significantly
Controlling the dissolved as well as the free water in the reservoir is critical in ensuring the absence of free water during operation. With the Pall HLP6 purifier, this is done efficiently, easily, and reliably.
HLP6
[Table 1/Voltage] [Table 2/Filter] [Table 3/Seals] [Table 4/Mounting] [Table 5/Water Sensor] [Table 6/Language]
Table 1: Voltage Options
 
W
480V - 60Hz - 3P (standard)
1
575V - 60Hz - 3P
R
380V - 50Hz - 3P
 
Table 2: Filter Element Options
 
Code
ßx(c) ≥; 1000
based on ISO 16889
CST Rating*
AZ
3
08/04/01
AP
5
12/07/02
AN
7
15/11/04
AS
12
16/13/04
AT
22
17/15/08
 
*CST: Cyclic Stabilization Test to determine filter rating under stress conditions, based on SAE ARP4205
Table 3: Seal Material
 
Z
Fluorocarbon (standard)
 
Table 4: Mount Configuration
 
C
Caster Wheels (standard)
F
Floor Mount (no casters)
P
Tow Package
 
Table 5: Water Sensor Option
Table 6: Language
 
Spare Parts
Pall Part Number
Polishing Filter
UE319A*20Z
Exhaust Coalescer
OL4C (cat# 1305787)
Air Breather
HC0293SEE5