Reliability of systems and the life of the system components and fluids can be extended by minimizing water contamination
The Pall® HXP006 Series Industrial Lube Oil purifier is specifically designed to remove free and dissolved water from low volume oil systems in hazardous areas where explosive gases maybe present.
The HXP006 purifier design is based on Pall's successful standard HNP series purifiers and uses vacuum dehydration to remove 100 % free water and as much as 90 % of dissolved water. It will also remove 100 % of free and entrained gases and up to 80 % dissolved gases and unlike other methods, cannot burn or otherwise significantly degrade of the oil.
Particulate contaminants & salt crystals (generated from sea water in the dehydration process) are removed using high performance rated (ß5(c)≥1000) filter elements.
In addition, a water sensor measures water content and temperature at the purifier inlet, allowing the purifier to operate only when the water content rises above a pre-determined level.
Removing free water is never enough!
Controlling the dissolved as well as the free water in the reservoir is critical in ensuring the absence of free water during operation.
Select the HXP006 for:
High performance water, gas and particulate removal
Extended fluid service life
Compact footprint
Minimized corrosion within systems
Reduced fluid disposal
Reduced operating costs
Increased equipment reliability
Simple automated operation
Remote monitoring option
| | |
| --- | --- |
| Specification: | Explosion protection class to ATEX 94 / 9 / EC: Group II CAT 2G IIC cb T3 |
Dimensions:
1700 mm (66.9 in) H x 641 mm (25.2in) W x 605 mm (23.8 in) D
Mounting option:
Static, wall mounted
Dry mass:
300 kg (662 lb)
Fluid Inlet/Outlet connections:
Inlet:
G1 60º coned to ISO228
Outlet:
G3/4 60º coned to ISO228
Gas Inlet/Outlet connections:
G1/2 60º coned to ISO228
Max. Recirculation Flow rate:
12.5 L/min (3.3 US gpm)
Inlet pressure:
10 barg (145 psig) maximum
System back pressure:
10 barg (145 psig) maximum
Fluid temperature:
+10 ºC (50 °F) to +40 ºC (104 °F)
Fluid viscosity:
700 cSt maximum
Operating vacuum:
-0.45 barg (13" Hg) to -0.9 barg (27" Hg) [adjustable]
Power supply:
230VAC @ 60Hz, 3-phase
Total Motor power:
1.7 kW maximum @ 60Hz
Outlet filter rating:
Code UP: 5 micron ß5≥1000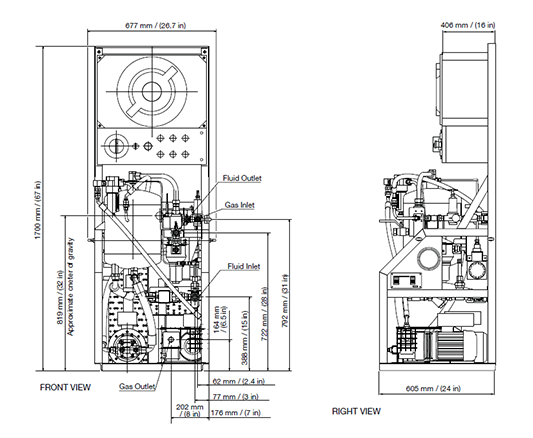 Materials of Construction
| | |
| --- | --- |
| Base frame, Vessel, Hydraulic fittings, control panel: | 316 Stainless steel |
| Seals: | Fluorocarbon |
| Hydraulic hoses: | Chlorinated polyethene |
| | |
| --- | --- |
| Note: | This equipment has been assessed in accordance with the guidelines laid down in the European Pressure Equipment Directive 97/23/EC and has been classified with SEP. We hereby declare under the provisions of this directive the purifier assembly is suitable for use with group 2 fluids only. |
*Other options are available; contact Pall.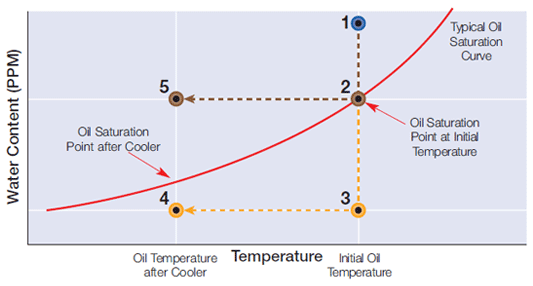 Initial water content is above saturation (free water).
Maximum water removal capability of "free water removal" devices (coalescers, centrifuges, etc.) is to the oil's saturation point.
Water content achieved with mass transfer dehydration is significantly below the oil's saturation point.
Water content achieved with mass transfer dehydration remains below the oil's saturation point even after oil is cooled by the system heat exchanger. This prevents the formation of free water which is detrimental to fluid system components and the fluid.
If only free water is removed at initial temperature, when oil is cooled the amount of free water in the oil can increase significantly.
Filtration, Polishing, Prefiltration, Removal
Purifier Assembly P/N:
HXP006N4UPZNX156
Replacement Outlet Filter Element P/N:
HCA064FUP8Z
Outlet Filter Housing Seal Kit P/N:
H9030SKZ9
Replacement Vacuum Pump Coalescer Element:
HS74499
Auto LOH for Stamping, Auto LOH-Filling Lines, Mining Equipment Gear Case, Mining Equipment Hydraulic Fluid, Mining Euqipment Lube Oil - on & off board, Heavy Hydraulic, Heavy Lubrication, Medium & Light Hydraulic, Medium & Light Lubrication, Coolants / Bearing Lubrication, Drives Gear Box + Roll Housing, Forging / Extrusion, Gear Box / Bearing, Gear Box / Morgoil, Material Directional Control, Material Handling, Non Contact, Medium & Light Hydraulic, Medium & Light Lubrication