The highest capacity membrane* for crossflow
filtration of process fluids and effluents
Pall Membralox IC ceramic elements are asymmetic
multi-channel membranes composed of a porous
alumina support and a filtering layer (alumina, zirconia, titania).
The revolutionary patented design provides a higher
surface area per membrane than an equivalent channel
diameter.
Key Features
High module flow rate
Wide chemical and pH (0-14) compatibility
Excellent thermal stability
Long term and reliable performance
Sanitable and sterilizable
Ability to withstand high frequency backpulsing cycles
100% bubble point integrity tested during manufacturing
Suited for high fouling fluids, viscous products,
high concentration factors, fine filtration, diafiltration,
automatic and easy cleaning in place (CIP).
Meets the requirements for food usage**.
Pall Membralox Membranes Quality
Unique ceramic support of the 12 µm pore size
allows the highest flux.
Patented alumina end-sealing provides superior
resistance to corrosion and cleaning cycles.
High homogeneity and quality of the filtration layers
for optimum filtration performances and selectivity.
Exceptional mechanical resistance for long service life.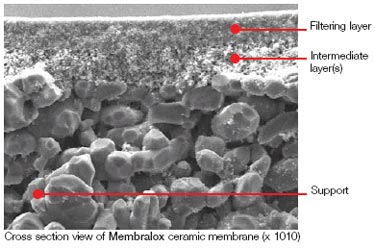 Cost Effective Separations
The superior characteristics of Pall Membralox IC ceramic
membranes provide a highly cost effective solution on the
market:
Less filtration modules and small system footprint
Lower investment cost
Shorter return on investment
* 4mm Channel diameter
** The membranes based on high purity alumia are certified for use in contact with food fluids by Commission Directive 2005/31/EC All membrane components are made from materials that our suppliers state meet the requirements for food contact use: Alumina and titania are GRAS, Zirconia layers on alumina suport are listed in 21 CFR Sect. 177.2910.