Leveraging more than 30 years of design and field experience, Pall delivers the third in its family of HLP series fluid conditioning purifiers—the
HLP50 Oil Purifier
.
The HLP series combines the water removal performance of mass transfer purifiers with high reliability and ease-of-use to help ensure maximum equipment uptime and lowest cost of ownership. This enables you to focus on your process, not on your equipment.
Improved Performance
The Pall HLP series purifiers feature an innovative new vacuum tower design that maximizes water removal efficiency.
Maximum Reliability, Lower Cost of Ownership
HLP series purifiers are designed for maximum uptime and have proven themselves in the field with industry-leading utilization rates even in the most demanding and continuousduty applications.
The HLP50 uses specially selected components to help ensure maximum reliability and lower cost of ownership. These premium components include:
Best-in-class Allen Bradley PLC
Reliable Elmo Rietschle vacuum pump with 12-month service interval

Controlling the dissolved as well as the free water in the reservoir is critical in ensuring the absence of free water during operation. With the Pall HLP50 purifier, this is done efficiently, easily, and reliably. The diagram below illustrates the concept.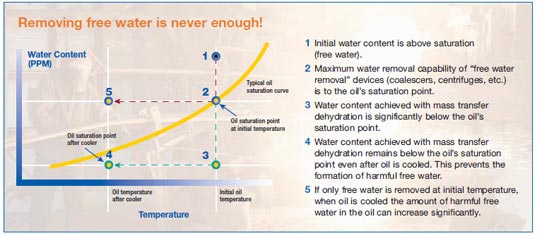 Ease of Use
The HLP50 series offers the following features to increase versatility in service and lower cost of ownership:
Low maintenance
Able to work with wide range of oil viscosities (3 cSt to 700 cSt)
No utility water required for cooling or pump operation— the only utility needed is an electrical power source
Standard Features
Pall HLP series purifiers come with the following standard features that many suppliers charge extra for:
Dissolved water sensor (Pall model WS10)
Low-watt density heater (30kw output)
Condenser with gravity drain
Focus on your Process, Not on your Purifier
HLP Series purifiers require a minimum of user interaction, which allows customers to focus more on their process and less on maintaining and upkeep of their purifier.
The HLP purifier is one of the easiest purifiers to operate. Simply connect the purifier to the reservoir, power up, and press the start button. In fact, many HLP users are able to just "press the button and walk away."
Extended vacuum pump oil change interval—12 months (8760 hours of run time)
No water utility for cooling or pump operation
Dimensions
(inches)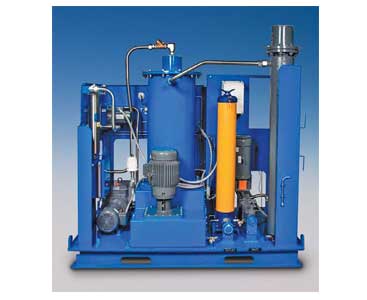 HLP50 Specifications
Flow Rate:
50 GPM (189 LPM)
Dry Mass:
3010 lbs (1365 kg)
Dimensions
(caster or floor mount):
82" H x 82" L x 46" W
(208 cm x 208 cm x 117 cm)
Viscosity Range:
3 cSt to 700 cSt
Seal Material:
Fluorocarbon
Enclosure:
NEMA 4 (IP65)
Inlet Fluid Temperature:
170ºF (76.7 ºC) maximum
Ambient Temperature:
(special options available for higher ambient temperatures)
39ºF to 105ºF (3.9 ºC to 40.6 ºC)
Inlet Pressure Range
-14" Hg to 10 PSI
(-0.47 bar to 0.69 bar)
Outlet Pressure
Relief Setting:
80 PSI (5.5 barg) maximum
Operating Vacuum Range:
15" Hg to 22" Hg
(-0.51 bar to -0.75 bar)
Heater Capacity:
30 KW (low watt density)
Paint Scheme:
Powder coated (suitable for
industrial phosphate ester service)
Fluid Filter Housing:
UR699 series with 40" element
Performance
The Pall HLP Series of purifiers has a new vacuum tower design that maximizes water removal (see chart below). The HLP50 removes 100% of free, un-dissolved gases and water (under steady state conditions), and up to 80% of dissolved gases and water. It also removes solid contaminants with efficiency of 99.9% (down to 3 microns).

HLP Series oil purifiers showed a 40% faster dehydration rate when compared with a typical purifier.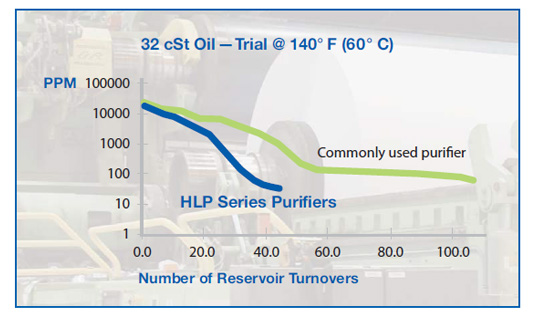 Dehydration, Filtration, Purification, Reclamation
Part numbers / Ordering Information
HLP50 [1] [2] [3] [4] [5] [6] [7] [8]
Table 1
Code
Voltage
R3
380V / 50 Hz / 3P
W4
480V / 60 Hz / 3P
14
575V / 60 Hz / 3P
Table 2
Code
Filter Element Options
ßx(c)≥1000
Based on ISO 16889
CST Rating*
AZ
3
08/04/01
AP
5
12/07/02
AN
7
15/11/04
AS
12
16/13/04
AT
22
17/15/08
*CST: Cyclic Stabilization Test to determine filter rating under stress conditions, based on SAE ARP4205
Table 3
Code
Seal Material
Z
Fluorocarbon
Table 4
Code
Mounting Option
N
Static
P
Tow Package
Table 5
Code
Ports
T
NPT Tapered
Inlet = 2" FNPT
Outlet = 2" FNPT
Table 6
Code
MFG Location
W
Western Hemisphere
Table 7
Code
Language
EN
English
ES
Spanish
FR
French
BP
Brazillian Portugese
Table 8
Code
Special Options
OMIT
NO Special Options
P001
Tested with Fyrquel®
Fluid
P002
Industrial Lighting Scheme
*WS10 water sensor is standard equipment on all HLP purifiers
Auto LOH for Stamping, Auto LOH-Filling Lines, Mining Equipment Gear Case, Mining Equipment Hydraulic Fluid, Mining Euqipment Lube Oil - on & off board, Heavy Hydraulic, Heavy Lubrication, Medium & Light Hydraulic, Medium & Light Lubrication, Coolants / Bearing Lubrication, Drives Gear Box + Roll Housing, Forging / Extrusion, Gear Box / Bearing, Gear Box / Morgoil, Material Directional Control, Material Handling, Non Contact, Medium & Light Hydraulic, Medium & Light Lubrication