Kermodur is a porous filter ceramic composed of corundum grains (a-Al2O3) sintered by a alumosiliceous bond. Main component of Kermodur EK are splintery, dense electro-corundum grains that build a fine filtering ceramic structure with very narrow pore size distribution. Kermodur KK is composed of hollow-spheres corundum grains.
The special feature of this filter media is its highly porous structure with its large internal surface area. Therefore it is suitable especially for depth filtration applications. Kermodur filter elements are successfully used for the filtration of gases. They are appropriate for depth filtration as well as for surface filtration whenever low contaminations have to be separated accurately.
Kermodur filter ceramic can be utilised in the food and beverage industry in  accordance with the German Foodstuffs and Consumer Goods Act and according to the European Directive 89/109/EEC – referring to directives 2002/72/EC and / or 84/500/EEC and their amendments, as appropriate.
Machining is possible using diamond-tipped tools.
Ceramic elements are to be handled with care.
Elements can be easily glued using commercial glues which we can supply. Consideration must be paid to operating temperature and chemical resistance.
A a variety of element fixing systems are available.
A periodic cleaning of elements can be advantageous for various applications. Please ask for our cleaning instructions.

Kermodur (KD)
Examples
Particle filter for gases
 fertilizer industry, e.g. mixed gas filtration for HNO3 synthesis
 methane, sludge gas, bio gas










Further applications possible.
Physical Properties
Kermodur (KD)
Unit
EK 10
EK 20
KK 30
Filtration fineness of gases
µm
3
5
6
Porosity
%
45
40
55
Material density
g/cm³
2,0
2.2
1.3
Specific permeability
10-13m²
65
100
200
O-Ring strength compression
MPa
> 28
> 20
> 8
Max. temperature resistance 1
°C
1.000
1.000
800
Expansion coefficient (25 - 800°C)
10-6/K
8.5
8.5
 8.5
Dimensions Do / Di
mm
60 / 40
70 / 40
60 / 40
1 Depending on operating conditions.
Differential Pressure Diagram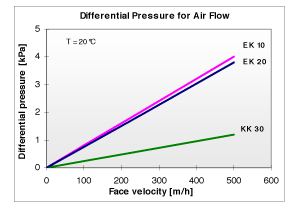 The physical data are valid for the dimensions listed in table "Physical Properties".
Chemical Resistance
Kermodur filter ceramic is resistant against most acids, saline solutions and organic solvents, liquid or gaseous. It does not resist hydrofluoric acid. Kermodur filter ceramic is resistant up to pH 11 in the alkaline range.
Clarification, Concentration, Filtration
Type
Do / Di
[mm]
Length
[mm]
Area
[m²]
Weight
[kg]
Candle
KK 30
60 / 40
1000
0,18
2,1
Cylinder
EK 10; EK 20; KK 30
60 / 40
1000
0,18
3,3 / 2,1
Cylinder
EK 10; EK 20
70 / 40
1000
0,22
5,5
Special dimensions and special products on request.
Auto LOH for Stamping, Heavy Lubrication, Material Handling, Auto Painting/Coating Zinc Phosphate Bath, Midstream Process Water, Midstream Process Water, Midstream Process Water, Midstream Process Water, Midstream Process Water, Mining Equipment Gear Case, Mining Equipment Hydraulic Fluid, Mining Euqipment Lube Oil - on & off board, Mining Final Product (Post Smelt/Burn off Impurities), Mining Final Product (Slurry), Mining Wastewater, Municiple Mining Water [Rinsing] , Pulp&Paper Bleach Chemical Prep, Pulp&Paper LOH, Pulp&Paper Machine Process Application, Pulp&Paper Paper Coating, Pulp&Paper Pulp Screening, Auto LOH for Stamping, Heavy Lubrication, Material Handling, Auto Painting/Coating Zinc Phosphate Bath, Midstream Process Water, Midstream Process Water, Midstream Process Water, Midstream Process Water, Midstream Process Water, Mining Equipment Gear Case, Mining Equipment Hydraulic Fluid, Mining Euqipment Lube Oil - on & off board, Mining Final Product (Post Smelt/Burn off Impurities), Mining Final Product (Slurry), Mining Wastewater, Municiple Mining Water [Rinsing] , Heavy Fuel, Heavy Hydraulic, Heavy Lubrication, Medium & Light Fuel, Medium & Light Hydraulic, Medium & Light Lubrication, Coolants / Bearing Lubrication, Drives Gear Box + Roll Housing, Forging / Extrusion, Gear Box / Bearing, Gear Box / Morgoil, Material Directional Control, Material Handling, Non Contact, Quenching / Cleaning, Roll Bite (Safety Filter), Shape + Material Handling, Pulp&Paper Bleach Chemical Prep, Pulp&Paper LOH, Pulp&Paper Machine Process Application, Pulp&Paper Paper Coating, Pulp&Paper Pulp Screening, Auto Painting/Coating Zinc Phosphate Bath, Medium & Light Hydraulic, Medium & Light Lubrication, Midstream Process Water
Automotive, Mobile OEM, Primary Metals, General Industrial, General Industrial, General Industrial, General Industrial, General Industrial, General Industrial, Mining, Mining, Mining, Mining, Mining, Mining, Mining, Pulp & Paper, Pulp & Paper, Pulp & Paper, Pulp & Paper, Pulp & Paper, Automotive, Mobile OEM, Primary Metals, General Industrial, General Industrial, General Industrial, General Industrial, General Industrial, General Industrial, Mining, Mining, Mining, Mining, Mining, Mining, Mining, Mobile OEM, Mobile OEM, Mobile OEM, Mobile OEM, Mobile OEM, Mobile OEM, Primary Metals, Primary Metals, Primary Metals, Primary Metals, Primary Metals, Primary Metals, Primary Metals, Primary Metals, Primary Metals, Primary Metals, Primary Metals, Pulp & Paper, Pulp & Paper, Pulp & Paper, Pulp & Paper, Pulp & Paper, General Industrial, General Industrial, General Industrial, General Industrial