The UltiFuzorTM UDM-61110 series degas module is the next generation development in Pall degassing technology. The UDM-61110 series allows digital ink jet printers to achieve high DO (Dissolved Oxygen) removal at the lowest pressure drop, prevent bubble formation and assure optimal printer performance.
The larger design allows digital ink jet printers to meet flow rate requirements up to 2.5 L/min. The UDM-61110 series is ideal for single pass digital printing applications.
Features and Benefits
Lower pressure drop
High dissolved oxygen removal
1/4 NPT, Female connections
Unique hollow fiber technology
Black housing for UV inks
Materials of Construction
Components
Materials
Housing
Polypropylene (Black)
Hollow fiber
Polyethylene
Potting compound
Epoxy Resin
Flow guidelines
0 – 2.5 L / min (2500 mL / min)
Typical membrane surface area
1.3 m2 / 14.0 ft2
Maximum operating temperature
45 °C / 113 °F
Maximum operating pressure
0.16 MPaG @ 45 °C / 24 psig @ 113 °F
Connections (Inlet/Outlet/vacuum)
1/4" NPT, Female
Dimensions (Nominal)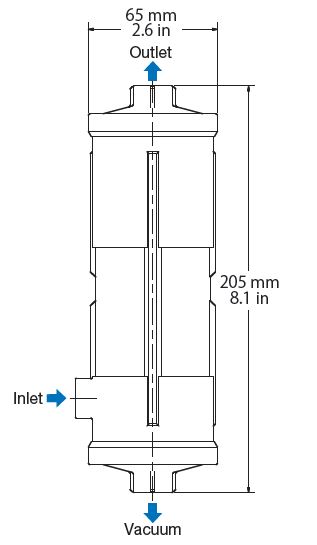 For best performance module should be installed vertically. Please review document number IUDM6EN for proper installation instruction. Document is available on the web at microelectronics.pall.com. For use in other configurations/flow patterns please contact the factory for assistance.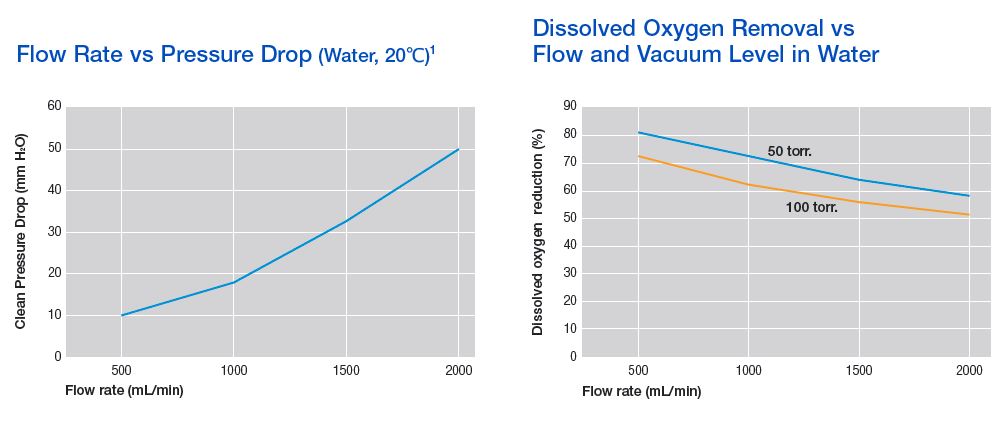 1 For liquids with viscosity differing from water, multiply the pressure drop by the viscosity in mPa・s.
*Note - Service Instructions can be downloaded from the "Download Datasheet" dropdown above.
TFF Cassettes and Modules
Part Number : UDM - 61110PT1