The IonKleenTM G2 AQ Purifier has been specifically designed for the removal of metal ions from ultrapure water at high flow process conditions. It is ideally suited for use in the semiconductor industry's most critical final cleaning processes. Utilizing Pall's IonKleen G2 AQ membrane, the surface has been modified to incorporate ion exchange groups on its surface resulting in spontaneous and immediate metal removal from ultrapure water.
Features & Benefits
High metal removal efficiency
Simplifies purification techniques
High capacity
High flow
Shipped dry
Manufactured in a cleanroom environment
The IonKleen G2 AQ Purifier is recommended for point-of- use rinse water purification. It has also shown positive results in the purification of ultrapure water with pH > 4.
Materials of Construction
 
Components
Materials
 
Filter Medium
Hydrophilic ultra high molecular weight polyethylene (UHMWPE)
Core, cage, end caps, support and drainage
High density polyethylene (HDPE)
O-rings
FEP Encapsulated Fluoroelastomer
 
Filter type
ABDG1
Purifier Media Area
1.3 m2 / 14 ft2
Ion Exchange Capacity
> 68 meq
Maximum Operation Temperature
70 °C / 158 °F
Maximum Operation Flow
< 45 L/min
Maximum Forward Differential Pressure
0.1 MPa @ 70 °C / 14.5 psid @ 158 °F
 
Dimensions

Pressure Drop vs. Liquid Flow Rate (Water, 20°C)1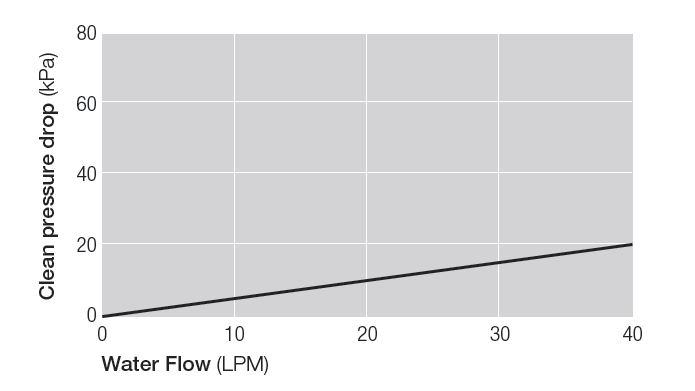 1For liquids with viscosity differing from water, multiply the pressure drop by the viscosity in centipoise.
Housings, Vessels, or Assemblies
Part Numbers / Ordering Information
ABDG1UPW3EH1