Description
Small Flow Gas (SFG) Coalescing Assemblies are rugged, inexpensive, high efficiency assemblies that eliminate problems caused by oil, water, and dirt in air or gas.
SFG Coalescer Features
Positive Seal:
Standard seal material is Nitrile (H13) available as either an internal o-ring or flat gasket depending on coalescer size.
Outer Drainage Layer: Drainage of coalesced liquid and protection from re-entrainment is provided by a polymeric outer drainage layer. This ensures consistent, high efficiency performance.
Metal Support Core: Axial strength and protection against liquid slugs are provided by a perforated inner support core constructed of
304 stainless steel.
Outer Cage: Media support during operation is provided by a 304 stainless steel outer support cage.
Primary Coalescer: Coalescing is achieved by use of a high area pleated glass fiber medium that is surrounded by a non-woven polymeric support and drainage layers. A surface treatment is used that enhances coalescer performance and lowers fouling tendency and pressure drop.
End Caps: 304 stainless steel end caps are used to improve cartridge strength and prevent contaminant bypass.
Key Benefits
Protects process analyzers
Safeguards instrument air operated equipment and systems
Prevents orifice plugging in pneumatic controllers
Improves accuracy of gas measurements in the field or plant
Decreases freeze-out and corrosion problems
Reduces fouling in small gas-driven engines
Provides reproducible high-quality gas for all operations using produced gas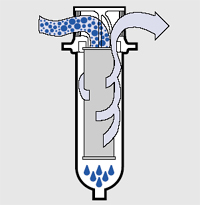 Inside to Out Flow Pattern of SFG Coalescer Assembly