For more than 70 years Pall Corporation has been solving complex contamination problems across the refining, petrochemical and oil and gas industries. By applying our advanced filtration and separation technologies directly to the problem, we're able to help operators reduce maintenance costs and minimize unscheduled shutdowns. Pall's proprietary polymeric coalescers efficiently break stable emulsions. Common applications of our liquid-liquid coalescer filter skid units include water from refinery fuels, caustic from fuels, hydrocarbon from rich amine or sour water.
Features
Flow capacity up to 160 m3/h (700 USGPM) (24,000 bbl/day)
Fully valved and piped on skid (inlet/outlet, clean and dirty side vents and drains)
Local differential pressure gauge
Local pressure gauge
Local temperature gauge
Local level gauge
PSV installed
Integrated points for influent and effluent samples
NORSOK compliant vessel
NACE compliant for sour service
Fully enclosed sump area to low point
Vent line to sump
All lines to skid edge
Skid frame has options for single point lift/fork lift truck
Full set of transportation blinds
Remove water from refinery fuels including LPG and gas oil
Remove caustic from refinery fuels
Can be operated as a water washer
Will accept the following Pall coalescer technologies: PhaseSep, PhaseSep HE, AquaSep Plus, AquaSep XS, and AquaSep EL
Remove water from fuels to protect catalyst beds
Remove water from steam stripped diesel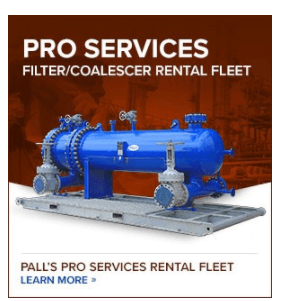 Mobile skid unit dimensions (L x W x H): 3.9 m (153.5 in) x 1.5 m (59 in) x 2.6 m (102.4 in).
Can be shipped via standard flatbed truck.
Skid weight: Dry – 3500 kg, Full of Water – 3900 kg
Vessel design code: EN13445/ PED Module G Cat. 4/CE marked
Piping design: ASME B31.3
Design pressure: 34 bar (493 psi)
Design temperature: 80°C (176°F)
Inlet/outlet 4" RFWN flange
Coalescer vessel: 1 Removable 9 x 101.6 cm (40 in) AquaSep®/PhaseSep® Coalescer plate assembly
Full documentation package and drawings available
Materials of Construction
Vessel: 316L Stainless steel
Piping: 316L Stainless steel
Base frame: Carbon steel painted
Housing closure gasket: 316L SW graphite filled
1 For complete details, request a design package.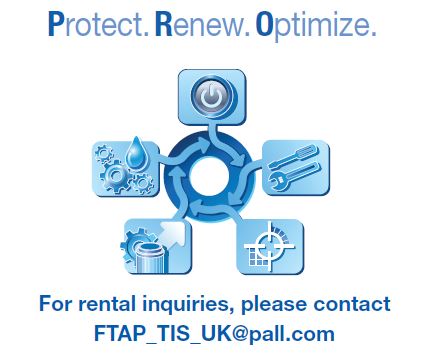 Refinery, Refinery, Refinery, Upstream, Refinery, Refinery