Water in hydraulic, lubrication, heat transfer and insulating fluids adversely affects fluid performance and is a threat to system reliability. The HDP Series of purifiers combine the water removal performance of mass transfer technology with high reliability and ease-of-use to help ensure maximum equipment uptime and lowest cost of ownership — enabling you to focus on your process, and not the equipment.
The Pall HDP10 fluid conditioning purifier uses vacuum dehydration to remove 100 % free water and over 90 % of dissolved water. Unlike other methods, it will not burn or otherwise alter the properties of the oil. It will also remove 100 % of free and entrained gases and up to 80 % dissolved air along with solid particulate contamination with an efficiency of 99.95 % (Beta ≥ 2000) down to 3 microns.
Maximum Reliability, Lower Cost of Ownership
HDP series purifiers implement a design for maximum uptime, tightly based on historical Pall purifier design, which exhibits higher utilization rates even in the most demanding and continuous duty applications. The HDP10 uses specially selected components to help ensure maximum reliability and lower cost of ownership.
These premium components include:
Schneider Electric PLC1 and HMI
Reliable Gardner Denver2 VLR series vacuum pump with 12-month service interval (8760 hours run time)
Rickmeier3 gear pumps — proven performers for more than 20 years in Pall purifiers
Pall HDP Series purifiers standard features include:
Pall WS12 Water Sensor
Low watt density heater (8kw output)
Pall Profile Star Coalescing Element to reduce risk of carry-over
Controlling the dissolved as well as the free water in the reservoir is critical in ensuring the absence of free water during operation. With the Pall HDP10 purifier, this is done efficiently, easily and reliably. The diagram below illustrates the concept.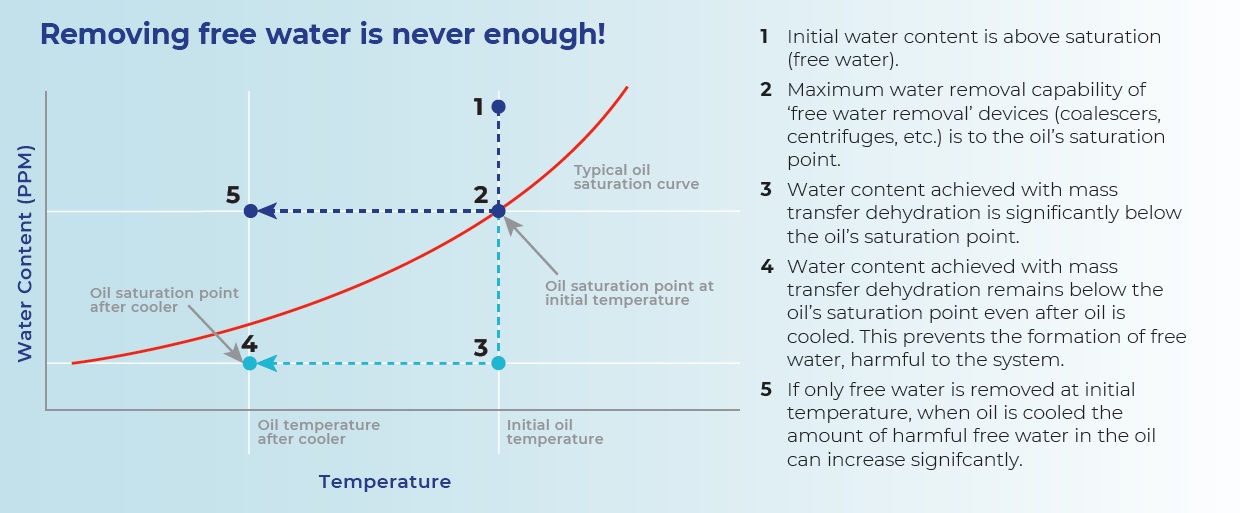 Flexible Flow Rates
The HDP's variable frequency inlet drive allows for efficient oil purification performance at flow rates ranging from 4-10 GPM.
Additional Design Improvements
Beyond equal to better dewatering performance when compared to the Pall HLP Oil Purifiers, the Pall HDP Oil Purifiers boast a series of design improvements over past versions. (1) The HDP will come standard with the ability to display water content PPM (parts per million) in most commonly available hydraulic and lube oils, giving you an all-in-one solution to measure and ensure oil quality. (2) Larger outlet check valves ensure reduced backpressure for more efficient, quieter running. (3) Upper tower level vacuum pump protection enabling a safe shutdown in challenging conditions.
Ease of Use
The HDP10 series offers the following features to increase versatility in service and lower cost of ownership:
Low maintenance
Able to work with wide range of oil viscosities (3 cSt to 1000 cSt)
No utility water required for cooling or pump operation
Focus on Your Process, Not on Your Purifier
HDP Series purifiers requires the minimum of user interaction, which allows users to focus more on their process and less on the maintenance and upkeep of their purifier. The HDP purifier is one of the easiest purifiers to operate. Simply connect the purifier to the reservoir, power up, and press the start button. "Our standard is that the HDP users are able to just press the button and walk away."


1 Schneider Electric PLC is a trademark of Rockwell Automation.
2 Gardner Denver is a trademark of Gardner Denver Holdings Inc.
3 Rickmeier is a trademark of IDEX Corporation.
Dimensional Drawings
NOTE: Views below without optional panels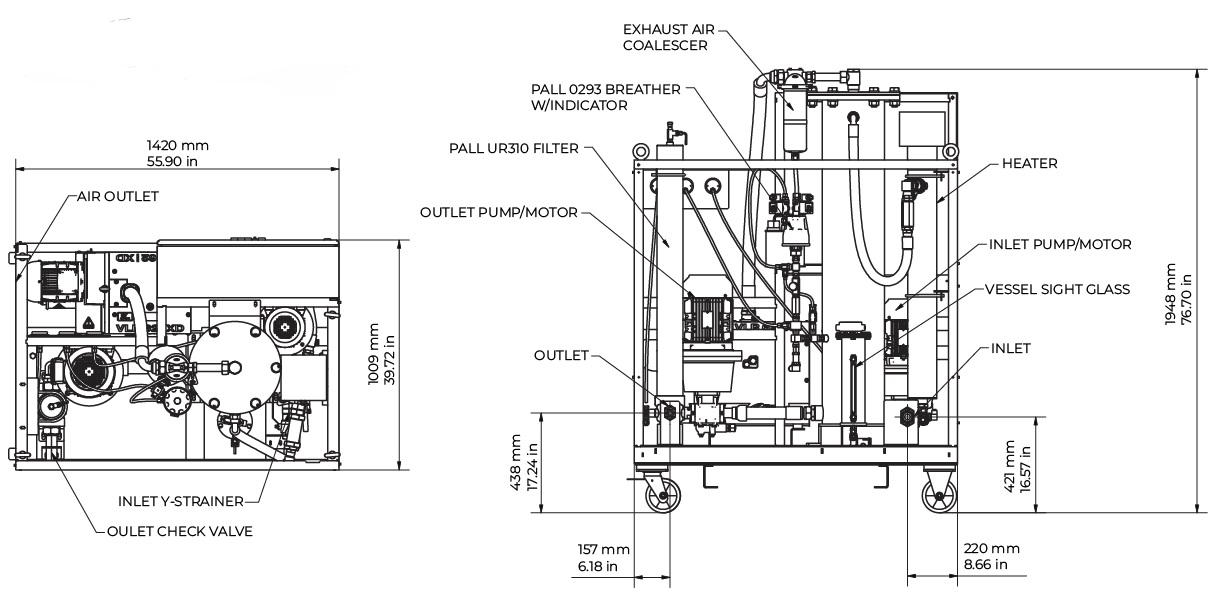 HDP10 Specifications
 
Flow Rate:
4 - 8 GPM
8 - 10 GPM
Viscosity Range:
3 cSt to 1000 cSt
3 cSt to 1000 cSt*
Dry Weight:
1411 Lbs (640 kg)
Dimensions
(caster or floor mount):
77.2" H x 56" x 41.7"
(196 cm x 142 cm x 106 cm)
Seal Material:
Fluorocarbon
Enclosure:
NEMA 4 (IP65)
Inlet Fluid Temperature:
167° F (75° C) Maximum
Ambient Temperature:
(special options available for higher ambient temperatures)
39° F to 104° F (4° C to 40° C)
Inlet Pressure Range
-14" Hg to 10 PSI (-0.5 bar to 0.7 bar)
Outlet Pressure Relief Setting:
80 psi (5.5 barg maximum)
Operating Vacuum Range:
-15" to -22" Hg (-0.51 bar to -0.75 bar)
Heater Capacity:
8 kW (low watt density)
Paint Scheme:
Two part polyurethane painted (suitable for industrial phosphate ester service)
Fluid Filter Housing:
UR310 Series with 40" element
 
* The flow rate may need to be slowed to 8GPM in order to achieve the full 1000 cSt range. Viscosity range to 820 cSt at 10GPM confirmed.
Water and Contaminant Removal from Lube and Hydraulic Oil
Purifier Part Numbers
HDP10 [1] [2] Z [3] [4] [5] [6] [7] WS12 Water Sensor is standard equipment on all HDP purifiers
Note: Z indicates fluorocarbon seals and chlorinated polyethelene hoses are standard. Contact Pall Sales for other options.
Table 1
 
Code
Voltage
R
380 Vac
S
400 Vac
T
415 Vac
W
480 Vac
1
575 Vac
 
Table 2
 
Frequency Code
Frequency
3
50 Hz, 3Ø
3
50 Hz, 3Ø
3
50 Hz, 3Ø
4
60 Hz, 3Ø
4
60 Hz, 3Ø
 
Table 3
 
Mounting Code
Description
C
Castor
N
Static
 
Table 4
 
Port Code
Port Type
P
ISO228 - BSP Parallel (Inlet: G1- 1/2, Outlet: G1)
T
ANSI B1.20.1 - NPT Taper (Inlet: 1-1/2", Outlet: 1")
 
Table 5
 
Language Code
Description
DE
German
EN
English
ES
Spanish
FR
French
IT
Italian
PT
Portuguese
RU
Russian
 
Table 6
 
Option Code
Special Options
Omit
No Special Options
A
Factory Testing With Fyrquel4 Fluid
 
4 Fyrquel is a trademark of ICL-IP America Inc.
Table 7
 
Panel Code
Panel Options
Omit
No Panel
P
Panel
 
Outlet Element Part Numbers
UE310 [Rating Code] [Length Code] [Seal Code]
 
Rating Code
Rating (ISO16889)
Length Code
Seal Code
AZ
ẞ2.5 (C) ≥ 2000
40
Z
AP
ẞ5 (C) ≥ 2000
40
Z
AN
ẞ7 (C) ≥ 2000
40
Z
AS
ẞ12 (C) ≥ 2000
40
Z
AT
ẞ22 (C) ≥ 2000
40
Z
 
Water Removal from Lube and Hydraulic Oil, Contaminant Removal from Lube and Hydraulic Oil