Fit and Forget Engine Protection
The Boeing CH-47 Chinook is the workhorse for the U.S. Army's military transport operations.  The multi-mission capability of this heavy-lift helicopter means it can be used for a wide variety of roles ranging from troop transport to disaster relief and medical evacuation.  However, these demanding missions also mean frequent landings on unprepared grounds away from the main base.
Pall's PUREair system is an ideal solution for such challenging conditions.
The system shields engine inlets from airborne contamination which results in:

Safer operation by providing protection against sand and dust, FOD, ice, and snow
Increased operational availability
Protection against engine erosion
Increased time between overhauls (up to 30 times more compared to an unprotected  engine)

On the CH47, there are two barrel-shaped modules fitted in front of the engine air intakes. These are located on rails to allow easy access for engine inspection. Pall has developed a complete installation kit comprising the PUREair modules, electrical kit, and structural reinforcement.
 



Photo Courtesy of the U.S. Army.
Part Numbers:
QB0459-03/QB0460-03  (port and starboard)
AEA24917AK1T1  (port and starboard)
CE01167BK1T1 (port and starboard)
1 AEA and CE part numbers are designated for the US Army.
Scavenge System:
Certifications:
Service Bulletin SB459-60-2 Issue 3

For the CH47 helicopter, a number of winter trials were carried out, resulting in the certification of the PUREair equipment for cold weather flight.
Maintenance
There are no inlet barrier filters to replace or clean; the PUREair is a "fit and forget" system. As with all aircraft equipment, routine visual inspection is recommended. 
For additional information about this product, please
contact
your local Pall representative.
| | | |
| --- | --- | --- |
|   |   | The Pall PUREair solution is also an environmentally friendly alternative to oil-wetted barrier filters. There is no filter replacement and no daily cleaning as with oil-based solutions, which are difficult and expensive to dispose of. |
The CH47 helicopter is fitted with Pall's PUREair system, a "fit and forget" solution that extends the erosion life of the engine.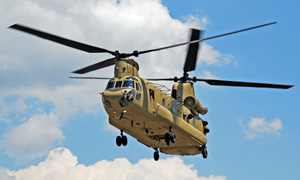 Photo Courtesy of the U.S. Army.
 
Agusta Westland

AW109 Power
AW109S
AW119
AW139

Bell
Boeing
Eurocopter

AS330, AS332, EC225, EC725, Denel Oryx
AS350, EC130, EC550, Z11
AS365/EC155/HH65
Hafei H425/Z9
Tiger

HAL
Mil

Mi 8
Mi 17
Mi 24, Mi 25, Mi 35
Mi 38

NHI
Sikorsky
 
Europe, Africa, Middle East, Asia
 
Date
Part Number
Description
1985/86
QB0289/290
First equipment developed at the request of the Egyptian Air Force
1990
QB0459/460
Fitted to the first UK Royal Air Force Chinook helicopters
1991
QB0459/460
During the Gulf War, CH47 PUREair system proved their value in hostile conditions
1995
QB0459-01/460-01
Following lessons learned from the Gulf War, CH47 PUREair system is redesigned for a shorter can to allow cowl opening
1997/98
QB0459-01/460-01
Cold weather tests are carried out on behalf of the RAF/UK MoD. Results show the PUREair system enhanced operational capabilities in ice and snow
2000
QB0695-01/696-01
Part number certified by Boeing for non-US operators. Note: Part N°s QB0459/60-01 and QB0695/6-01 are identical in all respects
2006
QB0459-03/460-03
External screens covering the entire tube surface are introduced, except for the panel facing the fuselage. This improves FOD protection
 
North and South America, Canada
 
Date
Part Number
Description
2002
ADA2497D1000A
Original equipment
 
CE01167BLK1T

CE01167BRK1T
PUREair modules (Port & Starboard) when ordered by OEM directly
2005
AEA24917BKIT

AEA24917AK1T
PUREair kit including Port & Starboard EAPS modules (AEA24914Y3/AEA24913Y3 )
 Mechanical installation kit