Improved Engine Protection
A certified upgrade is now available to replace the 30-year-old PUREair design. The new and improved unit provides a dramatic increase in dust separation efficiency and hence significantly increases the MTBUR for engine erosion.
The performance enhancements were achieved without any negative effect in terms of weight or power penalty compared to the previous equipment. In-service experience has demonstrated the superior performance of the PUREair system over other filtration devices that demand regular maintenance and cleaning.
Pall's "fit and forget" PUREair system is an ideal solution for challenging environments. The system shields engine inlets from airborne contamination which results in:

Safer operation by protecting against FOD, ice, snow, and sand
Increased operational availability
Protection against engine erosion

On the Gazelle helicopter, the unit consists of two halves fitted to the Astazou annular engine air intake.



Credited: Barry Vissers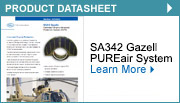 Part Numbers:
Scavenge System:
Certification:
Certified for operation in case of inadvertent entry into icing conditions, enabling it to operate without the need for a by-pass door and differential pressure monitoring system.
Maintenance
The PUREair is a "fit and forget" system; there are no inlet barrier filters to replace or clean. As with all aircraft equipment, routine visual inspection is recommended. In case of damage, please refer to the Component Maintenance Manual available through Pall Aerospace.
| | | |
| --- | --- | --- |
| | | The Pall PUREair solution is an environmentally friendly alternative to oil-wetted barrier filters. There is no filter replacement and no daily cleaning as with oil-based solutions, which are difficult and expensive to dispose of. |
For additional information about this product, please
contact
your local Pall representative.
The Gazelle helicopter is fitted with Pall's PUREair system, a "fit and forget" solution that provides enhanced protection against engine erosion.
 
Agusta Westland

AW109 Power
AW109S
AW119
AW139

Bell
Boeing
Eurocopter

AS330, AS332, EC225, EC725, Denel Oryx
AS350, EC130, EC550, Z11
AS365/EC155/HH65
Hafei H425/Z9
Tiger

HAL
Mil

Mi 8
Mi 17
Mi 24, Mi 25, Mi 35
Mi 38

NHI
Sikorsky
 
 
Date
Part Number
Description
1974
QB0125
First equipment developed for Astazou III engine.
1980
QB0126
Developed for the Astazou XIV engine. It is similar to QB0125, but bigger.
1983
QB0281
Designed for the Astazou XIV, but with improved sealing.
1993
QB0491
This upgraded unit delivers higher sand and dust separation efficiency. It is suitable for both the Astazou XIV and the Astazou III engines.

It was developed and qualified and is now in service with several forces in the Middle East, North Africa, and Europe.