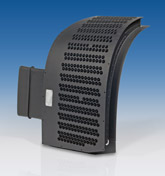 Need Help?

More Information

Description
Fit and Forget Engine Protection
The AgustaWestland AW109 helicopter is used in a variety of critical roles including Emergency Medical Services (EMS), police surveillance, and military operations. These demanding operations can mean anxious and dangerous minutes spent hovering close to the ground, and frequent landings on unprepared surfaces away from their main base.
The PUREair system is an ideal solution for such challenging operations. The system shields the engine inlet from airborne contamination which results in:
Safer operation by protecting against FOD, ice, snow, and sand
Increased operational availability
Protection against engine erosion.
| | | |
| --- | --- | --- |
| On the AW109, there are two curved panels which are aerodynamically shaped to match the profile of the engine cowlings (port and starboard). They replace the standard screen over the side-facing air intakes. | | Credited: AgustaWestland |
Part Numbers:
QB0582 (port)
QB0583 (starboard)
Scavenge System:
Certification:
Far 27 certification to RTCA-DO160C with Italian Airworthiness Authority, Ente Nazionale per l'Aviazione Civile (ENAC-RAI)
Certified for operation in case of inadvertent entry into icing conditions and therefore is allowed to operate without the need for a by-pass door and differential pressure monitoring systems.
Maintenance
There are no inlet barrier filters to replace or clean. The PUREair is a fit-and-forget system. Routine visual inspection is recommended, as with all aircraft equipment. In case of damage, please refer to the Component Maintenance Manual 71-61-05, available through Pall Aerospace.
For additional information about this product, please
contact
your local Pall representative.
| | | |
| --- | --- | --- |
| | | The PUREair solution is also an environmentally friendly alternative to oil wetted barrier filters. There is no filter replacement and no daily cleaning as with oil based solutions which are difficult and expensive to dispose of. |