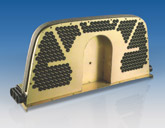 Need Help?

More Information

Description
Fit and Forget Engine Protection
A favorite of corporations, law enforcement, and other public service agencies, the Bell 206 is one of the most popular turbine helicopters ever built. For this type of single-engine helicopter, safety and reliability are essential.
Helicopter operators can't afford to be delayed by blocked filters; they demand a maintenance-free engine protection system.

Pall's "fit and forget" PUREair system is an ideal solution to help
meet challenging environmental conditions. The system shields
the engine inlet from airborne contamination, resulting in:
Safer operation by protecting against sand and dust, FOD, ice, and snow
Increased operational availability
Protection against engine erosion

The Bell 206 consists of a flat panel fitted to the engine cowl which rests on the engine inlet duct when the cowl is shut.





Credited: Gary Shepard
Part Number:
Scavenge System:
Certifications:
STC SR00333AT
CAA approval 24322
Certified for operation in case of inadvertent entry into icing conditions, the system enables the helicopter to operate without the need for a by-pass door and differential pressure monitoring system.
Maintenance
The PUREair is a "fit and forget "system; there are no inlet barrier filters to replace or clean. As with all aircraft equipment, routine visual inspection is recommended.

For additional information about this product, please contact your local Pall representative.
| | | |
| --- | --- | --- |
| | | The Pall PUREair solution is also an environmentally friendly alternative to oil-wetted barrier filters. There is no filter replacement and no daily cleaning as with oil-based solutions which are difficult and expensive to dispose of. |