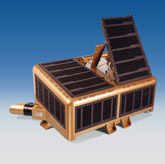 Need Help?

More Information

Description
For helicopters, search and rescue operations mean anxious and dangerous minutes spent hovering close to the sea or ground while the engine air intakes are battered by salt spray, sand, dust, and debris.
Salt accumulates on rotating parts, which can reduce the engine power available. Foreign Object Damage (FOD), icing, snow, and hot gas ingestion (HGI) also pose a dangerous threat to rescue helicopters.
Pall's PUREair system is a "fit and forget" solution that's ideal for these challenging operations.
The PUREair system shields engine inlets from airborne contamination, which results in:

Safer operation by protecting against FOD, ice, snow, sand, and salt spray
Improved operational capability in extreme environments
Prevention of cross-ingestion of FOD from an engine failure
Protection against engine erosion

On Sea King, S-61 and SH-3 helicopters, the PUREair unit consists of a box-shaped filter installed in front of the engine air intakes.

This equipment is currently in service with a number of operators in Europe, the Pacific, and North America.  A number of military operators have called it "the best thing ever fitted on a Sea King!".



Photo ©AgustaWestland.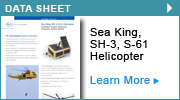 Part Numbers:
QB0124-051 (Sea King)
QB0631-051 (S-61)
QB0773 (HH-3F)
1 The 05 suffix on the part number indicates that a snow and ice protection system is included.
Scavenge System:
Certification:
Westland Mod No.7099 (Sea King)
For the Sea King helicopter, a number of winter trials were carried out in 1991/92 in Ottawa, Canada by the UK Ministry of Defence, in conjunction with the OEM. The objective was to carry out snow and icing trials on the Pall PUREair system, as well as other technologies, such as rotor blades, anti-icing system, and ice severity meters.  This allowed the helicopter to be certified for enhanced cold weather flight.
Maintenance
The PUREair is a "fit and forget" system - there are no inlet barrier filters to replace or clean.  As with all aircraft equipment, routine visual inspection is recommended.
| | | |
| --- | --- | --- |
|   |   | The Pall PUREair solution is an environmentally friendly alternative to oil wetted barrier filters. There is no filter replacement and no daily cleaning as with oil based solutions which are difficult and expensive to dispose of. |
For additional information about this product, please
contact
your local Pall representative.