Fit and Forget Engine Protection
The Tiger attack helicopter is currently used by several European defense forces as well as the Australian Army. It has been deployed in desert operations and in 2009 the French Army Tiger helicopter received its operational certificate for use in Afghanistan.

Pall's "fit and forget" PUREair system is an ideal solution for challenging desert conditions. The system shields engine inlets from airborne contamination, which results in:
Safer operation by protecting against sand and dust, FOD, ice, and snow
Increased operational availability
Protection against engine erosion
Increased time between overhauls
On the Tiger helicopter, the PUREair system is integrated into a complete engine cowl, replacing the dynamic air intake.
Part numbers:
Scavenge system:
Certification:
Certified for operation in case of inadvertent entry into icing conditions and therefore is allowed to operate without the need for a by-pass door and differential pressure monitoring systems.

Maintenance

There are no inlet barrier filters to replace or clean. The PUREair is a "fit and forget" system. As with all aircraft equipment, routine visual inspection is recommended. In the event of damage, please refer to the Component Maintenance Manual, available through Pall Aerospace. 

For additional information about this product, please contact your local Pall representative.
| | |
| --- | --- |
|   | The Pall PUREair solution is also an environmentally friendly alternative to oil wetted barrier filters. There is no filter replacement and no daily cleaning as with oil based solutions which are difficult and expensive to dispose of. |
The Tiger helicopter is fitted with Pall's PUREair system, a "fit and forget" solution that provides enhanced protection against engine erosion.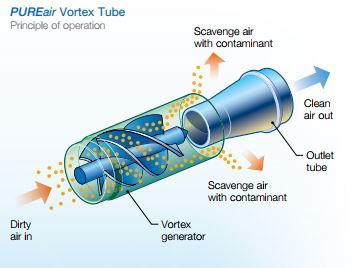 Agusta Westland

AW109 Power
AW109S
AW119
AW139

Bell
Boeing
Eurocopter

AS330, AS332, EC225, EC725, Denel Oryx
AS350, EC130, EC550, Z11
AS365/EC155/HH65
Hafei H425/Z9
Tiger

HAL
Mil

Mi 8
Mi 17
Mi 24, Mi 25, Mi 35
Mi 38

NHI
Sikorsky
 
| | |
| --- | --- |
|  1995 | Pall selected to supply the air filtration system for the Tiger helicopter. |
|  1998 | An erosion endurance test was performed on the Tiger helicopter engine protected by the Pall PUREair system. The challenge was to achieve ten hours of operation under brownout conditions with an engine power loss not to exceed 5 % A total of 156 kg of SAE coarse test dust was fed into the air intake, and the engine suffered virtually no erosion;  power loss was <3%. |
|  2007 | First delivery of Tiger helicopter with Pall PUREair system. |