Fit and Forget Engine Protection
The Eurocopter EC135 is the helicopter of choice for police and Emergency Medical Services (EMS). Their demanding missions mean frequent landings on unprepared grounds - sometimes as many as twenty times a day. Under such conditions, engines can suffer from early erosion damage.
EMS helicopters must be ready 24/7 for rapid dispatch to any location. Their missions cannot be delayed or restricted by operational challenges like a blocked filter; they require a maintenance-free engine protection system.
The "fit-and-forget" PUREair System is an ideal solution for such challenging operations. It shields the engine inlet from airborne contamination which results in:

Safer operation by protecting against FOD, ice, snow, and rain
Reduced pilot workload (no bypass door activation due to filter blockage)
Increased operational availability
Protection against engine erosion.
On the EC135, the PUREair system consists of a curved panel which is integrated into the helicopter design by the OEM. Pall has developed a complete kit, comprising the modules and the rotor mast seal.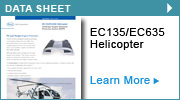 Part numbers:
QB0594-03 , QB0664-03 (Black)
QB0594-04 , QB0664-04 (Silver)
Note: QB0594-03/04 includes the PUREair system plus the rotor mast seal. QB0664-03/-04 is for the PUREair panel only.
Scavenge system:
Certification:
Eurocopter SB: EC135-71-028 (installation of the PUREair system) Pall SB: SB664-71-03 (introduction of new scavenge fan)
Certified for operation in the event of inadvertent entry into icing conditions, the EC135 is capable of operating without a by-pass door and differential pressure monitoring systems.
Maintenance
The PUREair is a "fit-and-forget" system; there are no inlet barrier filters to replace or clean. As with all aircraft equipment, routine visual inspection is recommended.
| | | |
| --- | --- | --- |
| | | The Pall PUREair solution is an environmentally friendly alternative to oil-wetted barrier filters. There is no filter replacement and no daily cleaning as with oil-based solutions that are difficult and costly to dispose of. |
For additional information about this product, please
contact
your local Pall representative.
The EC135 helicopter is fitted with Pall's PUREair system, a "fit-and-forget" solution that extends the erosion life of the engine.
 
 

© Eurocopter. Photo credit: Daniel Bujack.

 


 © Eurocopter. Photo credit: Daniel Bujack.

 
 

© Eurocopter. Photo credit: Daniel Bujack.

 
 

© Eurocopter. Photo credit: Daniel Bujack.
 
Agusta Westland

AW109 Power
AW109S
AW119
AW139

Bell
Boeing
Eurocopter

AS330, AS332, EC225, EC725, Denel Oryx
AS350, EC130, EC550, Z11
AS365/EC155/HH65
Hafei H425/Z9
Tiger

HAL
Mil

Mi 8
Mi 17
Mi 24, Mi 25, Mi 35
Mi 38

NHI
Sikorsky
 
 
Date
Part Number
Description
1997
 
Eurocopter contacted Pall to design an advanced engine intake system with an efficient rotor-mast-seal.
2000
QB0585/586

(PUREair panels only)
In April 2000, the initial First Article Inspection was held at Pall Aerospace manufacturing, Redruth, UK.
2001
QB0594-01 (black)

QB0594-02 (silver)
The Pall PUREair system received certification for both engines (Turbomecca  and Pratt & Whitney). These P/N's are for the full kits; port & starboard panels as well as the rotor mast seal.
2003
 
Pall Aerospace received the permission from Eurocopter to supply the PUREair system for the EC135 with an EASA Form1.
2010
QB0594-01
QB0594-02
Eurocopter SB: EC135-71-028
Authorizes Pall to sell the PUREair system directly to EC135/635 operators
2013
QB0594-03
QB0594-04

Introduction of new composite material plus new scavenge fan with increased time between inspection .