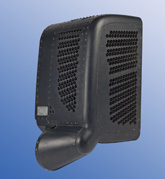 Need Help?

More Information

Description
Fit and Forget Engine Protection

The HAL Dhruv helicopter is used by India's defense forces in a variety of roles. It is capable of flying at high altitudes and in mountainous regions, their mission cannot be delayed or restricted by a blocked filter; they require a maintenance-free engine protection system.
The "fit and forget" PUREair system is an ideal solution for such challenging operations. It shields the engine inlet from airborne contamination, which results in:
Safer operation by protecting against sand & dust, FOD, ice, and snow
Increased operational availability
Protection against engine erosion
Increased time between overhauls
On the ALH, the unit consists of two box-shaped filters fitted on both sides of the helicopter, in front of the modified engine air intake pavilion.

Part numbers:
Scavenge system:
Certification:
Indian Ministry of Civil Aviation
Certified for operation in case of inadvertent entry into icing conditions and is allowed to operate without the need for a by-pass door and differential pressure monitoring systems.

Maintenance

The PUREair is a "fit and forget" system; there are no inlet barrier filters to replace or clean. As with all aircraft equipment, routine visual inspection is recommended.
In case of damage, please refer to the Component Maintenance Manual available through Pall Aerospace. 

For additional information about this product, please contact your local Pall representative.


| | |
| --- | --- |
|   | The Pall PUREair solution is also an environmentally friendly alternative to oil-wetted barrier filters. There is no filter replacement and no daily cleaning as with oil-based solutions, which are difficult and expensive to dispose of. |