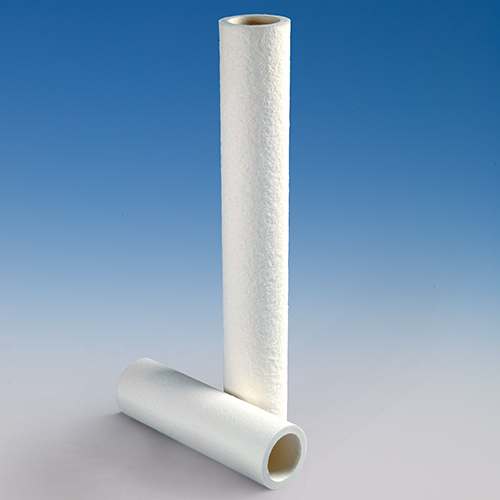 Need Help?

More Information

Description
Profile Coreless filters are large diameter cartridges designed for cost-effective, highly efficient clarification and particle filtration in high flow rate food and beverage applications.
Description
Profile Coreless filter elements combine Pall proven Profile depth filter technology with a design that eliminates the core to provide a convenient, cost effective and environmentally-friendly solution for liquid clarification applications.
Constructed of melt blown polypropylene media, Profile Coreless elements feature a fixed fiber matrix with graded pore structure. With coarsest pore sizes in the outermost layers and decreasing pore sizes towards the innermost layers of the cartridge, pre-filtration and fine filtration can occur within the same cartridge. These features are the key to the superior removal performance and high contaminant holding capacity of these filters.
The large diameter filter elements enable smaller sizing for a given flow rate than standard melt blown cartridges. Filter vessels are correspondingly smaller, resulting in lower capital and installation costs, as well as reduced operating costs.
The Profile Coreless filter element fits over a 316L stainless steel core, which is retained inside the filter housing. At change-out, the element is simply pulled up over the core, which is then ready to accept the replacement element.
Features and Benefits
 
Features
Benefits
Large diameter cartridge utilizing high void volume, low differential pressure media

Smaller systems with low capital and installation costs, and reduced operating costs

Continuous graded pore structure with pre-filter section and high performance inner section

Superior filtrate quality
High contaminant holding capacity
Long service life

Highly stable all-polypropylene structure with fixed fiber matrix and no adhesives or surfactants

Consistent filtrate quality
Wide chemical compatibility

Separate stainless steel core retained in filter housing

Ease of fitment
Less waste, lower disposal costs