The MAC small capsule filter is designed to remove oversized or agglomerated pigment particles and gels from LCD color resist during coating. The polypropylene filtration media has a very sharp cut-off to assure passage of critical pigment particles while retaining unwanted contamination and minimizing premature plugging. The robust, thick-wall construction with integrally molded connectors reduces or eliminates capsule flexing to provide a steady, stable flow rate.
Features and Benefits
Swagelok1 compatible connections
Choice of two high-efficiency filter media options

Profile® Star: most effective for removal of agglomerated particles and gels
HDC® II: higher filter area for lower differential pressure, greater flow rate and longer service life

Pressure-resistant design to 0.65 MPa (@20 °C )
Small internal hold-up volume minimizes loss of resist
Small footprint enables capsule to be placed close to point-of-dispense
| | | |
| --- | --- | --- |
| Profile Star Media | | HDC II Media |
| | | |
1 Swagelok is a trademark of Swagelok Company.
Materials

Filter medium: polypropylene
Housing: polypropylene
Core: high density polyethylene (HDPE)

Removal Rating

Profile Star: 1 μm, 1.5 μm, 3 μm 5 μm
HDC II: 1.2 μm, 2.5 μm, 4.5 μm

Maximum Operating Temperature
50 °C / 122 °F
Maximum Operating Pressure
0.65 MPa @ 20 °C / 94 psi @ 68 °F
Pressure Drop vs. Liquid Flow Rate (Water, 20 °C)2
Profile Star Capsule
HDC II Capsule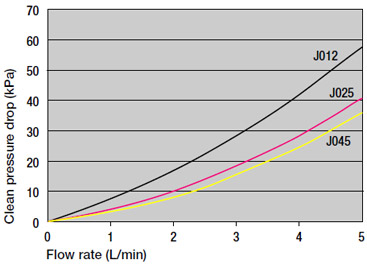 2 For Liquids with a viscosity differing from water, multiply the pressure drop by the viscosity in centipoises.
Dimensions (nominal)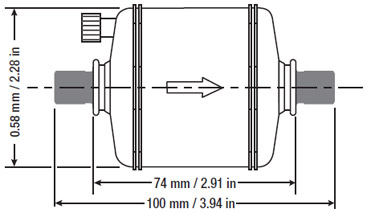 Swagelok compatible connectons:
in / out – 0.25 in.
drain / vent – 0.125 in.
MACW < Removal Ratings Code from Table 1 > 4C
Table 1 - Removal Ratings (μm)
Code
Removal Ratings (μm)
Profile Star Medium
A010
1
A015
1.5
A030
3
A050
5
HDC II Medium
J012
1.2
J025
2.5
J045
4.5