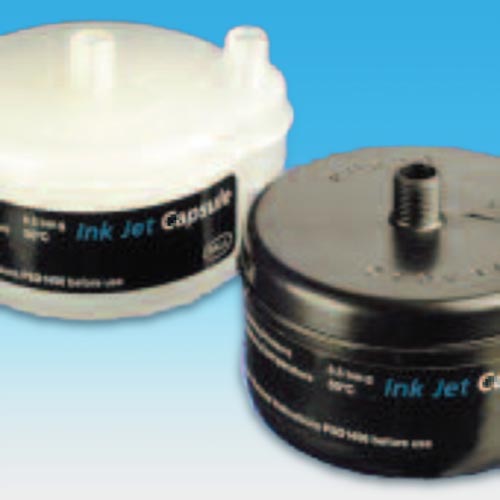 Need Help?

More Information

Description
Optimized Ink Jet Filter Capsule Ensures
Clean Ink and Protection of the Print Head
The Pall® Ink Jet capsule and UV Ink Jet capsule range of disposable capsule filters have been developed to offer a high level of protection for the print heads in ink jet printing machines.
The success of the Ink Jet capsule product is attributed to its compact design and excellent filtration performance. The UV Ink Jet capsule filter combines these characteristics with an opaque capsule design to reduce the risk of UV sensitive fluids being prematurely cured inside the filter.
Description
The Pall Ink Jet capsule and UV Ink Jet capsule have an all-welded construction ensuring maximum strength and compatibility.
No binders, glues or mold release agents are employed.
The Pall Ink Jet capsule and UV Ink Jet capsule filters incorporate Pall polypropylene Profile®Star and Profile II media (refer to Pall publication PSD 1769 and PSD 1770 for further details).
Encapsulated filter which ensures a clean and safe environment.
Convenience - Ease of Use
Minimal hold up volume of fluids ensures minimum wastage.
Small, light, and easy to connect.
All-polymeric construction allows incineration for easy and economic disposal.
Inlet and outlet connections are an integrally moulded part of the capsule, thus reducing the number of seals required.


Features
Advantages
Benefits

Black capsule (UV Ink Jet capsule only)

Offers protection from UV light

Good compatibility, safe and economic to dispose

No binders, glues or mold release agents are employed

Economical to filter and less waste

Minimal product loss during changeout

Prevents curing of the UV fluids during filtration