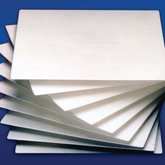 Need Help?

More Information

Description
For General Industrial Filtration Applications
Seitz T series depth filter sheets were developed for coarse and clarifying filtration of many fluids in the food and beverage industry.
The "T" stands for technical because these filter sheets are designed for general industrial filtration duties. T 120 through T 950 are specifically designed for clarifying filtration. With their positive ZETA potential, these depth filters contain a high adsorption capacity. T 1000 through T 5500 have no ZETA potential. This range of the T series is characterized by its open structure and is well suited for filtration of high suspended solids and viscous applications.
From the selection and quality control of raw materials to application of the latest production technologies, the T series filter sheets meet the highest quality standards.
Features
Benefits
Homogenous and consistent media, available in multiple grades

Suitable for a variety of applications
Proven and reliable performance

Reduced density and high porosity media with low filtration resistance

Economical filtration
High particle holding capacity resulting in long filtration cycles and high throughputs
Suitable for filtration of viscous materials, retention of gel particles or coarse dispersed substances at low differential pressures

Each individual filter sheet is laser etched with the sheet grade, batch number and production date.