Fluid Conditioning Unit
The Pall® VRFII varnish removal trolley is a portable off-line filter unit designed to reduce or eliminate the presence of vanish in hydraulic and lubrication systems.
Varnish is the thin, insoluble film deposit that forms on oil-wetted surfaces inside a hydraulic or lube system, such as bearings and servo valves.
When varnish forms, the effects can be devastating to the operation and availability of the equipment, and may include:
Sluggish controls and servo valve stiction
Costly downtime from unscheduled outages
Start-up delays from unresponsive control systems
The demand for reliability, availability, and seamless operation of today's fluid systems requires an efficient, easy, and reliable method for removing varnish not only from the oil, but also from the wetted metal surfaces inside the machine.
Varnish Removal
Varnish in hydraulic or lubrication fluids can be effectively removed or reduced to acceptable levels by passing the fluid through the on-board SUPRAdisc II filter module.
SUPRAdisc II filter modules feature an innovative design incorporating a double separator concept, whereby the filter medium and separators are stacked on a central core and compressed to produce a stable high strength unit
Each sheet of filtration medium is individually sealed and separated resulting in close to 100% effective filtration area that is dimensionally stable during shipment and handling, filtration and maintenance.
In addition to removing varnish, the SUPRAdisc filter module can:
Improve fluid filterability properties
Remove gel & colloids
Remove free water (in small quantity)
Retain fine contaminants at high loading rate.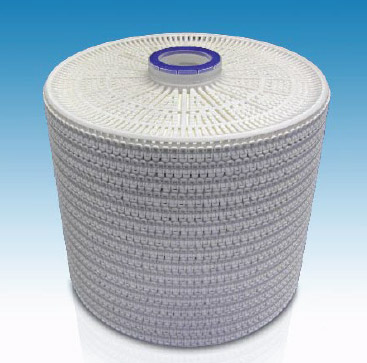 SUPRAdisc filter module
Notes and Specifications
Operating Pressure Limits
Inlet:
-0.5 barg (-7.3 psig) to 0.7 barg (10.1 psig)
System back pressure:
2 barg (29 psig) max.
Fluid Compatibility:
Mineral and synthetic oils
Temperature range:
15 °C (59 °F) min to 40 °C (104 °F) max if no water cooler fitted, 70° C (158° F) Max if water cooler fitted
Approx. Dry Mass:
100-130kg (220-286 lbs)
Fluid connections:
1" BSP male
Water Inlet /outlet:
3
⁄
4
" BSP
Materials of Construction:
Vessel:
Stainless Steel (316L)
Frame:
Carbon Steel, painted
Hydraulic fittings:
Carbon steel, painted
Seals:
Fluorocarbon
Technical Specifications
Example:
Typical mobile unit without water cooler and air bleed
Filter Housing P/N: VRF
[1] [2] [3] [4]
CP
[5] [6] [7]
(Filter housing supplied empty. Filter modules must be ordered separately)
Replacement filter module P/N: 200ME
[8]
C232VP
Table 1
Code
Number of modules
1
1
2
2
Table 2
Code
Flowrate
4
15 L/min (4 US gpm)
8
30 L/min (8 US gpm)
Table 3
Code
Voltage & Frequency
M5
220 V – 50 Hz, single phase
R3
380 V – 50 Hz, 3 phases
S3
400 V – 50 Hz, 3 phases
Table 4
Code
Water Cooler options
N
No cooler
W
Standard cooler Fluid Temp 60 °C (140 °F) max
H
High capacity cooler Fluid Temp 70 °C (158 °F) max
Table 5
Code
Motor
S
Without variable speed drive
V
With variable speed drive
Table 6
Code
Language (IOM)
EN
English
FR
French
IT
Italian
DE
German
ES
Spanish
Table 7
Code
Optional Kits
A
No optional Kit
B
5 m inlet/outlet hoses
C
Auto air bleed + option A
D
Auto air bleed + option B
Table 8
Code
Media1
30
300
70
700
90
900
1Other media available on request