Marksman™ Series filters combine the performance advantages of cartridge filters with the ease-of-use of bag filter systems, offering a unique combination of benefits and economics in a cost-effective alternative to bag filters.
Ease of Use
Marksman Series filters easily retrofit into existing Size 1 and Size 2 bag housings. One Size 2 Marksman filter replaces up to
16
standard 10 in (25.4 cm) filters, making change-outs quick and easy.
The user-friendly design eliminates the need for tube guides, springs, or compression plates resulting in simple maintenance, faster filter change-outs and reduced system downtime.
Inside-to-outside fluid flow ensures that the unwanted particles are trapped within the element. This significantly reduces the possibility of contaminating the clean, downstream side of the filter housing during element change-out.
Adaptability
Marksman Series filters can be used during normal process conditions, whereas bag filters may be used for short periods of time during upset conditions.
Similarly, Marksman filters can be used for critical batches, while bag filters may be used for less critical production runs. Marksman Series filters can also be used as a complementary technology to existing bag filters.
Lower Operating Costs
The high surface area and resulting long service life of Marksman filters translates into fewer cartridge change-outs and lower disposal costs. One Marksman filter offers the equivalent filter life and filtration performance of 10 standard 10 in. (25.4 cm) filters, thus delivering additional savings on filter purchases.
Marksman filters provide:
Unsurpassed consistency of contamination removal
High-porosity for maximum dirt-holding capacity
Wide range of filtration medium materials (polypropylene, nylon and glass media)
Customized products for specific applications
In-plant applications of Marksman filters include:
Machine tool coolant
Make-up water, pre-and post-RO
Paint and Coatings
Water and oil-based metal working fluids
Wash rinses and baths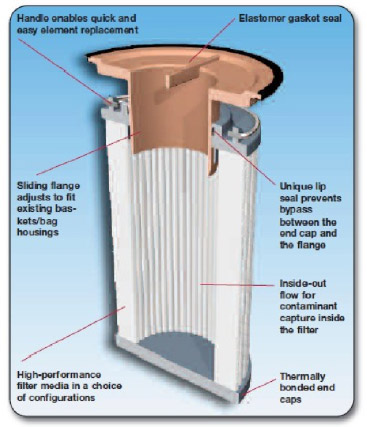 Marksman Filters are available in four media configurations
Marksman PFT Series Filters
 
Marksman PFT filters are constructed of ultra-thin, proprietary melt-blown Poly-Fine® filter media. These high surface area, pleated, polypropylene filters deliver extremely long service life and are ideal for classifying filtration and for capturing non-deformable (solid) particulate.

Learn more about PFT technical specifications
Marksman XLD Series Filters
 
Marksman XLD (eXtended Life Depth) Series filters have a unique pleated depth configuration. They feature a thicker, multi-layered pleat pack that combines the best of pleated and depth technologies into a single cartridge. Marksman XLD filters are ideal for applications where the long life of a pleated filter is desired, and the presence of deformable particles (gels, fibres, etc..) requires the use of depth media.

Learn more about XLD technical specifications
Marksman DFN Series Filters
 
Marksman DFN filters are constructed of micro fiberglass Duo-Fine® media. These 6 in. (15.2 cm) diameter filters have a wide chemical compatibility, are available in a variety of filter grades and offer long service life.

Learn more about DFN technical specifications
Marksman NXA Series Filters
 
Marksman NXA filters utilize the same proprietary CoLD Melt technology found in the Pall Nexis Filter range. The unique Co-located Large Diameter fiber construction produces a fiber matrix with excellent structural integrity to assure that the media does not shift, compress, or unload captured contaminant.

The proprietary melt-blown depth filter exhibits precise particle removal efficiencies, excellent consistency, and exceptional void volume for high contaminant-holding capacity.

Learn more about NXA technical specifications
Auto Original Paint, Auto Paint Process Water, Auto Painting/Coating Sludge Separation, Auto Painting/Coating Zinc Phosphate Bath, Auto Power Train Dept: Parts Washing, Test Stands (Metal Chip Filtration), Mining Final Product (Slurry), Municiple Mining Water [Rinsing], Quenching / Cleaning, Roll Bite (Safety Filter), Shape + Material Handling, Pulp & Paper Bleach Chemical Prep, Pulp & Paper LOH, Pulp & Paper Machine Process Application, Pulp & Paper Paper Coating, Pulp & Paper Pulp Screening, Auto Painting/Coating Zinc Phosphate Bath, Midstream Process Water