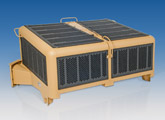 Need Help?

More Information

Description
Fit and Forget Engine Protection
The Mi-8 helicopter is a multipurpose helicopter used in a variety of roles, including passenger and military troop transport, fire-fighting, and search and rescue. These demanding missions can mean anxious and dangerous minutes spent hovering close to the sea or ground, and frequent landings on unprepared landing zones. In addition, these helicopters must be available 24/7 for rapid deployment to any location.
The "fit and forget" PUREair system is an ideal solution for such challenging operations. It shields the engine inlet from airborne contamination which results in:

Safer operation (protection against sand and dust, FOD, salt spray, ice and snow)
Increased operational availability
Enhanced protection against engine erosion
Reduced maintenance and operational costs
On the Mi-8 helicopter, the unit consists of a box-shaped filter installed in front of the engine air intakes.
Part numbers:
Scavenge system:
Certification:
| | |
| --- | --- |
| In June 2009, Pall signed an agreement with Russian Helicopters for the Mi8/17 modernization program. Part of this agreement incudes the certification of the Pall PUREair equipment. A Service Bulletin authorizing installation of the PUREair system on the civil helicopters is anticipated following completion of type certification flight trials. | |
There are no additional limitations for operations in winter conditions. It is allowed to operate without a by-pass door and differential pressure monitoring systems.
Maintenance
The PUREair is a "fit and forget" system; there are no inlet barrier filters to replace or clean. As with all aircraft equipment, routine visual inspection is recommended.
In case of damage, please refer to the Component Maintenance Manual, available through Pall Aerospace.
For additional information about this product, please
contact
your local Pall representative.
| | |
| --- | --- |
| | The Pall PUREair solution is an environmentally friendly alternative to oil-wetted barrier filters. There is no filter replacement and no daily cleaning as with oil-based solutions which are difficult and expensive to dispose of. |